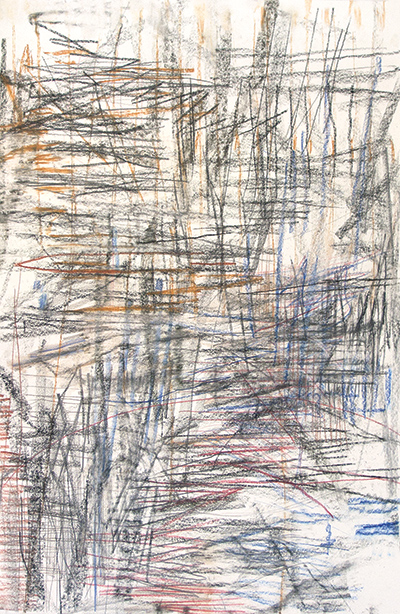 March 06 - April 25, 2015
Selections from Amsterdam Drawing
FOR IMMEDIATE RELEASE
February 1, 2015
Amsterdam Drawings at Gallery Joe
Philadelphia, PA Gallery Joe is pleased to present Selections from Amsterdam Drawing, an exhibition of drawings by Ronald Noorman, Paul van der Eerden, and Christine Hiebert opening March 6 and continuing through April 25, 2015.
This past September Gallery Joe traveled to Amsterdam to participate in the 3rd edition of Amsterdam Drawing. Fifty galleries from Europe and the US were invited to exhibit drawings by artists living and working today. Gallery Joe brings together three artists who were featured at the fair: Ronald Noorman, Paul van der Eerden and Gallery Joe's featured artist, Christine Hiebert.
Ronald Noorman lives and works in Amsterdam. There is no preconceived idea when he begins to work. Though quite abstract, there remains a suggestion of reality in Noorman's small gouache and charcoal drawings.
"There is a feeling. So I work on several drawings in search of something. I just start. I have paint and paper and I want to evoke space by means of a gesture and just a few lines. And sometimes, it works." Ronald Noorman, Galerie Espace.
Noorman's recent exhibitions include Splendid Isolation at the Drawing Center, Diepenheim; Aangloeien, Galerie Kristof de Clercq, Gent; Schwerpunkt, Galerie Werner Klein, Cologne. Noorman's drawings are in the collections of the Stedelijk Museum, Prentenkabinet van het Rijksmuseum and Teylers Museum in the Netherlands, and Staatliche Grafische Sammlung and Museum Folkwang in Germany.
Since the 1980s Paul van der Eerden has been making drawings in pencil on paper, often in large series. It is not easy to identify a typical Van der Eerden. Versatility of expression is an important aspect of his work and can be seen as an exploration of the visual tension between figuration and form.
"The main themes in my work are indifference, the absurdity of everyday life, the violence in the human relations and the tragedy inherent in human existence."
Van der Eerden's drawings are in the collections of Stedelijk Museum, Schiedam; Museum Boijmans Van Beuningen, Rotterdam; Teylers Museum, Haarlem; Centraal Museum, Utrecht; Bibliothéque national de France, Paris; Centre Pompidou in Paris, and the FRAC Bretagne, Renne.
In 2014 Paul Van der Eerden was awarded the EPOS/Press Oeuvre Award, a prize for artists that have produced a large and important body of work on paper. Van der Eerden lives and works in Rotterdam.
Christine Hiebert's practice has focused on drawing since 1989. Her works on paper and site-specific wall drawings investigate the nature and language of line in an abstract way.
"By choosing not to use familiar images, she refuses the sense of security they provide… Borne along by time, Hiebert uses drawing in order to flourish in a state of uncertainty and susceptibility."
– John Yau, "Christine Hiebert," Vitamin D2: New Perspectives in Drawing, Phaidon Press, London, England, 2013.
Recent exhibitions include Space for the Mark at Gallery Joe and UP at Margarete Roeder Gallery, New York. Recent shows abroad include exhibitions at the Kolumba Museum of the Archdiocese of Cologne; the Museo de Arte Contemporáneo Esteban Vicente, Segovia, Spain and the Pinakothek der Moderne, Munich where she was commissioned to create a monumental wall drawing and limited edition artist book. Christine Hiebert lives and works in Brooklyn.
Selections from Amsterdam Drawing opens on First Friday, March 6. There will be a reception for the artists on First Friday from 6-8 pm.
Selections from Amsterdam Drawing
06 Mar - 25 Apr 2015