'Janus' selected as one of the Must See Painting Shows for October
posted: 11/6/14
New American Paintings names Rob Matthews 'Janus' an October pick
Sign up to receive Gallery Joe e-mails
posted: 9/3/14
If you would like the latest news on upcoming Gallery Joe exhibitions, fairs and news, sign up to receive our e-mails. We send about 2 per month, unsubscribe any time.
Mia Rosenthal Arkansas Arts Center exhibition and acquisition
posted: 7/30/14
Mia Rosenthal's drawings are included in the 12th National Drawing Invitational: Outside the Lines at the Arkansas Arts Center in Little Rock, through October 5th. Mia will be giving a talk and workshop September 12th and 13th. More information and an online catalog including an essay by Ann Prentice Wagner, Curator of Drawings at ndi.arkansasartscenter.org The Arkansas Arts Center is also acquiring her drawing Google Portrait of Philip Guston for its permanent collection.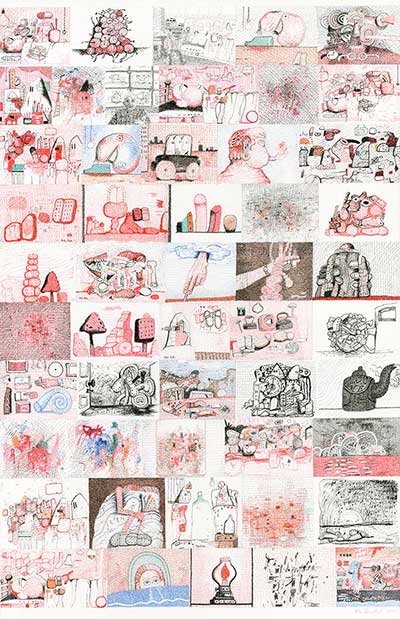 Allyson Strafella in Typewriter Art: A Modern Anthology
posted: 7/30/14
"This beautiful book brings together some of the best examples by typewriter artists around the world. As well as key historical work from the Bauhaus, H. N. Werkman, and the concrete poets, there is art by contemporary practitioners, both typewriter artists who use the keyboard as a "palette" to create artworks, and artists/typographers using the form as a compositional device. The book will appeal to graphic designers, typographers, artists, and illustrators, and anyone fascinated by predigital technology." By Barrie Tullett, published by Laurence King Publishing, 2014.