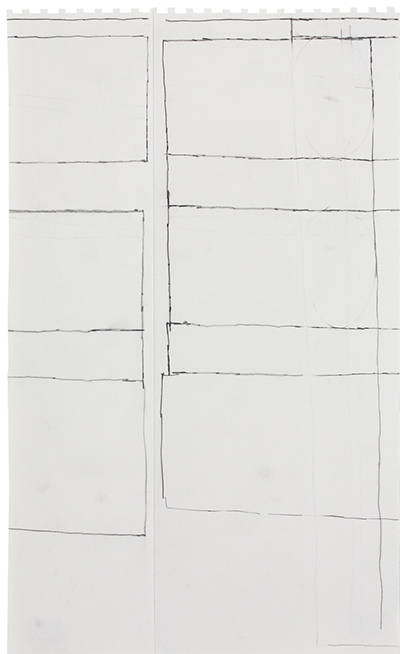 January 10 - February 28, 2015
In Line
FOR IMMEDIATE RELEASE
January 1, 2015
In Line at Gallery Joe
Philadelphia, PA – For many artists the power of the line is the primary focus of their work. In Line gathers together three such artists: Sharon Etgar, German Stegmaier and Lynne Woods Turner. In Line opens in the Front gallery Saturday, January 10 with a reception from 4-6 pm, and contines through February 28.
Gallery Joe is pleased to present the work of Israeli artist Sharon Etgar_ for the first time in Philadelphia. She is showing selections from two bodies of work, string drawings on ledger pages and small collages. Etgar is represented by Davis and Langdale Company in New York where she had her US debut in 2011. Etgar lives and works in Tel Aviv.
German Stegmaier's small graphite drawings, each work composed, put aside, partially erased, and reworked develop over several years. His drawings are included in numerous collections including the Stedelijk Museum, Amsterdam, Kunstmuseum, Bonn, and Pinakothek der Moderne, Munich. Stegmaier lives and works in Munich.
Lynne Woods Turner first showed at Gallery Joe in 2000. In a recent statement about her work Turner states, "The images are based on geometry and begin with a question rather than an idea… The process is contemplative and motivated by the pleasure of problem solving…." Turner's drawings are included in numerous collections including the Museum of Modern Art, New York, NY, and Yale University Museum, New Haven, CT. Turner lives and works in Portland, OR.
In Line runs concurrently with "this thing we call a city", a solo show of drawings by Sharka Hyland in the Vault Gallery.
In Line
10 Jan - 28 Feb 2015