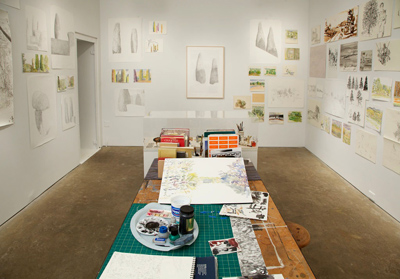 October 29 - November 26, 2011
In and out of the studio
FOR IMMEDIATE RELEASE
October 10, 2011
IN AND OUT OF THE STUDIO: DRAWINGS BY EMILY BROWN
Philadelphia, PA – Gallery Joe is pleased to present In and Out of the Studio: Drawings by Emily Brown opening October 29 and running through November 26. There will be a reception for the artist on Saturday, November 5, 5 - 7 pm.
For her fourth solo show at Gallery Joe Emily Brown takes us from the gallery walls into her studio. In the front gallery she shows a number of her distinctive large sumi ink wash drawings. All are drawn from the landscape, on paper measuring 60 x 40 inches and larger.
In the vault Brown is installing a tableau to suggest her work space. Included are sketches, prints, photographs, objects and ephemera that she has made or collected over the years. These are things that have a personal meaning and that have engendered and informed her work. They stir emotions and conjure memories. Taken together, they provide insight into Brown's creative process.
This summer Brown had several exhibitions in Maine, including Emily Brown: Drawings and Re-Collections, Waterfall Arts, Belfast, and Four in Maine: Drawings, Farnsworth Museum, Rockland. In 2009 she attended a residency at La Napoule Foundation, Cote d'Azur, France. She is the recipient of numerous awards including a visual arts grant from The Independence Foundation in 2007, the Purchase Award from the American Academy of Arts and Letters in 2006, the Leeway Foundation Grant for Excellence in works on paper, 2002, and the Pew Fellowship in the Arts in Painting in 2000. Brown's work is are included in the collections of the Philadelphia Museum of Art, Pennsylvania Academy of the Fine Arts, Princeton University Art Museum, Princeton, NJ, The James A. Michener Museum in Doylestown, PA and the Farnsworth Art Museum, Rockland, ME.
In and Out of the Studio: Drawings by Emily Brown runs from October 29 – November 26. The gallery will be closed on November 24 and 25 in observance of Thanksgiving. Regular gallery hours are Wednesday through Saturday 12 - 5:30 and other days by appointment. For additional information contact the gallery at 215.592.7752, mail@galleryjoe.com and www.galleryjoe.com.
In and out of the studio
29 Oct - 26 Nov 2011