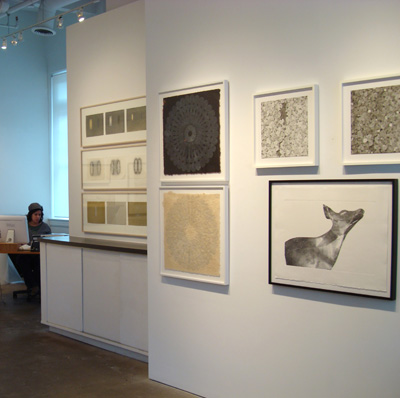 February 05 - February 27, 2010
Prints by Gallery Artists
FOR IMMEDIATE RELEASE
February 3, 2010
PRINTS BY GALLERY ARTISTS AT GALLERY JOE
Philadelphia, PA – Gallery Joe is pleased to announce Prints by Gallery Artists, a group show opening on Friday, February 5 and running through February 27, 2010.
For the next three months Gallery Joe departs from our regular program to present a series of 4 exhibitions curated to run concurrently with Philagrafika 2010 (philagrafika2010.org) the citywide event celebrating print making. We begin this series of shows with Prints by Gallery Artists in the Front Gallery. This show will run in tandem with Big Bang, an installation by Adam Carlton Carrigan and curated by Marianne Bernstein in the Vault Gallery.
Hung salon style, Prints by Gallery Artists features a variety of printmaking techniques from woodcut to digitally generated multiples. For some of the artists printmaking is a major endeavor, for others it is a curiosity, an experiment, a creative opportunity that augments their primary medium.
17 Gallery Joe artists will participate: Astrid Bowlby, Emily Brown, Lynne Clibanoff, Christine Hiebert, Marilyn Holsing, Jeanne Jaffe, Mary Judge, Sharon Louden, Winifred Lutz, Rob Matthews, Linn Meyers, Kate Moran, Charles Ritchie, Stephen Robin, Samantha Simpson, Mark Sheinkman, and Martin Wilner.
Prints by Gallery Artists opens on February 5 and continues through February 27, 2010. There will be an opening reception for the artists on First Friday from 6 – 8:00 pm. Regular gallery hours are Wednesday through Saturday 12 - 5:30, other days by appointment. For additional information 215.592.7752, mail@galleryjoe.com or www.galleryjoe.com .
Prints by Gallery Artists
Martin Wilner
Sharon Louden
Stephen Robin
Winifred Lutz
Jeanne Jaffe
Kate Moran
Linn Meyers
Mary Judge
05 Feb - 27 Feb 2010