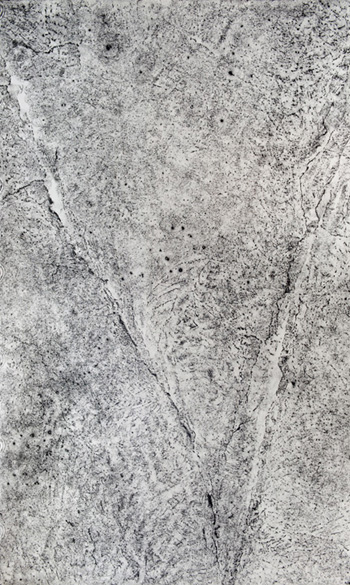 December 12 - January 30, 2010
Very Very Large Drawings
FOR IMMEDIATE RELEASE
September 15, 20099
VERY VERY LARGE DRAWINGS AT GALLERY JOE
Philadelphia, PA – Gallery Joe is pleased to announce Very Very Large Drawings, a group show opening on Saturday, December 12 and running through January 30, 2010. Seven artists have been invited to participate: Sandra Allen, Emily Brown, Sabine Friesicke, Ani Hoover, Linn Meyers, Jill O'Bryan, and Allyson Strafella.
"It's all about scale" - words often expressed by artists and collectors alike. What makes a small drawing vast or a large one intimate? In an investigation of these issues Gallery Joe mounted an exhibition this summer of nearly 70 very small drawings, 5 x 5 inches or less. Continuing this dialogue, the gallery will present 7 very large drawings, one for each wall in the gallery. In each of the drawings in the show monumentality is a vital element of the work.
Sandra Allen lives and works in Boston, She received her MFA from Yale University School of Art. Allen works in graphite on paper, minute marks creating monumental images of trees. Her work is included in the collections of the Museum of Fine Arts Boston, Fogg Art Museum, Harvard University, DeCordova Museum and Sculpture Park and Yale University Art Gallery. Allen is represented in Boston by Carroll and Sons. This is Allen's first show at Gallery Joe.
Emily Brown lives and works in Philadelphia. Brown recently returned from France where she attended a residency at the LaNapoule Foundation in Provence-Alpes-Côte d'Azur, She is a recipient of numerous awards including a Pew Fellowship in the Arts. Recent exhibitions include shows at Wave Hill, Bronx, NY and Gallery Joe in 2008. Brown will show a large ink drawing from her Wave Hill series. Brown's work is included in the collections of Princeton Museum of Art and Philadelphia Museum of Art.
Sabine Friesicke lives and works in New York City. For this show, Friesicke has created her largest work to date, a gouache drawing on paper measuring 60 x 80 inches, Gold a solo show of Friesicke's work was seen at Gallery Joe this past spring. Her drawings are included in the collections of the Davis Museum, Wellesley, MA, Birmingham Museum of Art, and the Hammer Museum, Los Angeles.
Ani Hoover Lives and works in Buffalo NY. She received her MFA from American University, Washington DC. Recent exhibitions include shows at Alfred University in NY and The Center for the Arts at the University of Buffalo where she showed a series of six drawings 30 feet tall each. Hoover works in ink, acrylic and enamel spray paint on YUPO, a synthetic paper. Gallery Joe introduces Ani Hoover to Philadelphia with one drawing 9 feet tall.
Linn Meyers lives and works in Washington, DC. A familiar face at Gallery Joe she has shown in both solo and group shows, Though she has exhibited some large drawings, nothing compares to the piece in this show, which is composed of several mylar panels and measures nearly 8 x 7 feet. Meyers' work is included in the collections of The Hirshhorn Museum and the Smithsonian American Art Museum in Washington, DC, and the New Britain Museum of American Art in Connecticut.
Jill O'Bryan spends half the year in New York and other half in Santa Fe, NM. O'Bryan will show the largest drawing in the show, a graphite drawing132 x 80 inches. It is one of a series of 8 graphite rubbings of the huge outcroppings of rock in the Santa Fe landscape. O'Bryan received her MFA from the San Francisco Art Institute and her PhD in Visual Studies from New York University. Recent exhibitions include "Nueva York El Papel de las Últimas Vanguardias, New York/New Drawings, 1946 – 2007, Museo de Arte Contemporaneo Esteban Vicente, Segovia, Spain. This is O'Bryan's first exhibition in Philadelphia.
Allyson Strafella lives and works in Hudson, NY. Strafella will show two 60inch hand made paper panels completed during her residency at Dieu Donne Paper Mill in 2008. Made of linen and abaca these are the largest sheets that can be produced at the mill. Strafella is the recipient of a John Simon Guggenheim Memorial Foundation Fellowship. Her drawings are included in the collections of The Metropolitan Museum of Art, The Museum of Modern Art, NY, and The Hammer Museum, Los Angeles. Strafella is also new to Gallery Joe.
Very Very Large Drawings opens Saturday, December 12 and runs through January 30, 2010. There will be a reception for the artists on Saturday, December 12 from 4 – 6 PM. Regular gallery hours are Wednesday through Saturday 12 - 5:30, other days by appointment. For additional information 215.592.7752 mail@galleryjoe.com. or www.galleryjoe.com .
Very Very Large Drawings
Ani Hoover
Sandra Allen
Linn Meyers
Sabine Friesicke
Jill O'Bryan
12 Dec - 30 Jan 2010