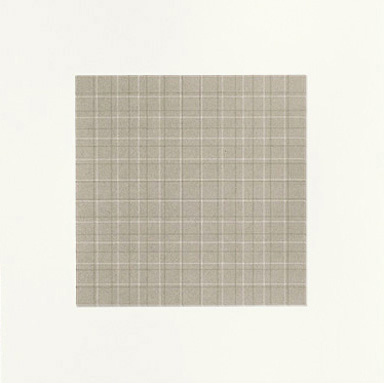 May 01 - June 27, 2009
Nicole Phungrasamee Fein: Shift
FOR IMMEDIATE RELEASE
April 11, 2009
NICOLE PHUNGRASAMEE FEIN AT GALLERY JOE
Gallery Joe is pleased to present a solo show of drawings by San Francisco based artist Nicole Phungrasamee Fein. Shift opens in the Front Gallery on Friday, May 1 and continues through June 27, 2009. Shift is Fein's second solo show at Gallery Joe.
As in her previous exhibition Fein will show 15 watercolor drawings on paper, each drawing a square within a square with an overall size of 15 x 15 inches. However, in this new body of work, Fein uses a larger brush and the surface area of each drawing is larger, 9 x 9 inches compared to 6 x 6 inches in her earlier work. A monochromatic palate allows Fein to carefully consider the structure of each work and the relationship of one drawing to the next. The colors are tones of a soft warm gray, throughout. Each drawing is composed of multiple passes of the brush across the paper creating rich surfaces of depth and luminosity. In several of the new works, Fein overlays one structure on another implying subtle shifts or movement.
Of this work Fein states:
more thoughts on the word 'shift' in relation to this body of work…
shift in palette
shift in size/scale
shift to wider bands/lines
shift to overlapping lines
shift to overlaying two patterns (…lines appear to be shifting)
Nicole Phungrasamee Fein's work is included in the collections of the Whitney Museum of American Art, NY, The Museum of Fine Arts, Houston, TX, Fogg Art Museum, Harvard University, Cambridge, MA, UCLA Hammer Museum, Los Angeles, CA, and The Legion of Honor in San Francisco among others. Fein was awarded her MFA from Mills College in Oakland, CA, BFA from the School of the Museum of Fine Arts in Boston, and BA from Tufts University, Medford, MA. In San Francisco she shows with Hosfelt Gallery.
Shift opens on May 1 and runs through June 27, 2009. The artist will be present at a reception on First Friday, May 1 from 6:30 – 8:30 PM. This show runs concurrently with animations by Sharon Louden in the Vault Gallery. Regular gallery hours are Wednesday through Saturday 12 - 5:30, other days by appointment. For additional information contact Becky Kerlin, 215.592.7752, FAX 215.238.6923, mail@galleryjoe.com or www.galleryjoe.com
Nicole Phungrasamee Fein: Shift
01 May - 27 Jun 2009