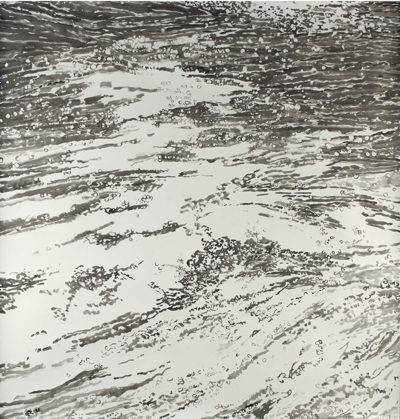 January 12 - February 23, 2008
Surfaces and Reflections
FOR IMMEDIATE RELEASE
December 20, 2007
Emily Brown – Surfaces and Reflections at Gallery Joe
Philadelphia, PA—Gallery Joe is pleased to present the third solo show at the gallery by Philadelphia artist Emily Brown. Surfaces and Reflections opens in the Front Gallery on Saturday, January 12, 2008 and continues through February 23, 2008. This exhibition runs concurrently with a solo show of drawings by Susan Tiger in the Vault Gallery.
Surfaces and Reflections will feature 10 to 12 drawings of varying scales, sizes, and materials. Brown continues to render the natural landscape, however departing slightly from her previous shows through size and materials. She will exhibit her characteristic large-scale ink drawings, but new to the show will be the inclusion of smaller drawings executed in graphite. These works are of a much smaller and more intimate scale than seen in past exhibitions. Brown's primary focus for this show is her exploration of water surfaces emphasizing scenes that reveal the rippling imagery of water devoid of any trace of land. She examines the rhythmic lines along with the effects of light and reflection on water.
Emily Brown is the recipient of numerous awards and grants. Her most recent grant was awarded this past summer from The Independence Foundation. She also received the Purchase Award from the American Academy of Arts and Letters in 2006, the Leeway Foundation Grant for Excellence in works on paper, 2002, and the Pew Fellowship in the Arts, 2000 fellowship for painting. She has exhibited widely in the Philadelphia area and the northeast with solo exhibitions at the Aucocisco Gallery, Portland, ME and at Kate Ganz USA Ltd, New York, NY. In 2005 she was the focus of a solo exhibition, Emily Brown: The Evolving Landscape at The James A. Michener Museum in Doylestown, PA. Her work is included in several prominent public collections such as the Philadelphia Museum of Art, Pennsylvania Academy of the Fine Arts, Princeton University Art Museum, and the Farnsworth Art Museum, Rockland, Maine.
Surfaces and Reflections opens in the Front Gallery on January 12, 2008 and runs through February 23, 2008. There is a reception for the artist on Saturday, January 12, 3:30 – 6:00 pm. Regular gallery hours are Wednesday through Saturday 12 - 5:30 and other days by appointment. For additional information contact the gallery at 215.592.7752, FAX 215.238.6923, mail@galleryjoe.com and www.galleryjoe.com.
Surfaces and Reflections
12 Jan - 23 Feb 2008