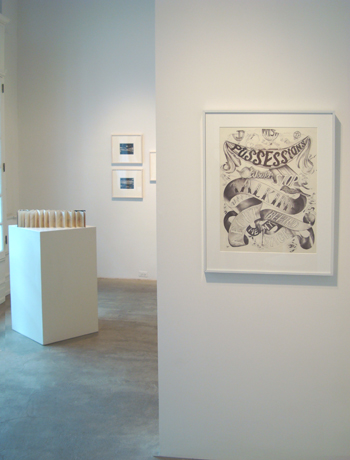 July 06 - July 28, 2007
Ink!
FOR IMMEDIATE RELEASE
June 22, 2007
INK!
Philadelphia, PA—Gallery Joe will open INK!, this year's summer group show curated by Sarah Holloran, on First Friday, July 6. There will be an opening reception on Friday evening from 6 – 8 pm, and the show will continue through July 28.
Eleven artists will exhibit ink drawings in the show. All of these artists have selected ink as their primary medium drastically shifting away from its previous associations with preparatory work or the banal markings of our everyday lists. From the calligraphic washes of Gil Kerlin's work, to the intimate books of Sharyn O'Mara and Martin Wilner, to the miniaturized markings of Jacob El Hanani. Roland Flexner's work even appears to float across the surface of the page, while Samantha Simpson employs a ballpoint pen to create elaborate drawings that integrate text and imaginative illustrations of nature and figures. Ink takes on many colors, forms, and even textures in this show.
Artists exhibiting include:
William Anastasi
Astrid Bowlby
Emily Brown
Jacob El Hanani
Roland Flexner
Simon Frost
Gil Kerlin
Linn Meyers
Sharyn O'Mara
Samantha Simpson
Martin Wilner
INK! will run from July 6 – July 28, 2007. The gallery will be closed in August.
For additional information or to schedule an appointment, contact Sarah Holloran, 215.592.7752, FAX 215.238.6923, or email mail@galleryjoe.com.
Ink!
Martin Wilner
Sharyn O'Mara
Linn Meyers
Simon Frost
06 Jul - 28 Jul 2007