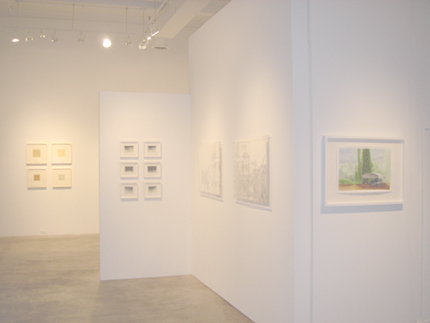 October 07 - November 19, 2005
Water Color - Current Views
Gallery Joe opens the season this year with a group show. Water color: current views opens on Friday, October 7 and runs through November 19. There will be an opening reception on First Friday, October 7 from 6:30 to 8:30.
The unifying theme in this show is the medium of watercolor. Over the past few years I have noticed a marked increase in the number of artists who are drawn to this medium. For this show, I have selected twelve artists from around the country who approach their work using a variety of techniques, from meticulous layering to flamboyant expressive brushwork. Several of the artists have shown in the gallery before, but most are new to Gallery Joe and to Philadelphia. – Becky Kerlin
Rebecca Bird embraces the idiosyncrasies of watercolor in her large drawings of explosions, a perfect subject for the brilliant luscious color and translucency inherent in the medium. Bird was born and raised in Lynnwood, Washington. She currently lives and works in Brooklyn.
Matthew Bliss lives and works in New York where he shows with Feigen Contemporary. Bliss' intimate abstract watercolors, some no more that 4 inches square, suggest monumental spaces.
Amy Cartwright also works in a small format. Everyday objects such as soda cans or toys sit discretely on white paper. Cartwright was born and raised in England. She recently moved from Philadelphia to live Virginia.
Nicole Phungrasamee Fein's work was seen at Gallery Joe in "A Three Week Show" in 2004. Fein carefully applies color layer upon layer to create grids of extreme delicacy. She lives and works in San Francisco.
Harrison Haynes' flamboyant drawings juxtapose people and objects in bizarre situations. His vibrant use of color heightens the absurdity of his drawings. Haynes is a graduate of Rhode Island School of Design. He lives and works in Carrboro, North Carolina where he is represented by Branch Gallery.
Cheol yu Kim was born and raised in Korea. Cheol has developed a vast collection of templates that he incorporates in endless ways to create elaborate narratives, sometimes biological, sometimes inspired by superheroes. He lives in Brooklyn and is a graduate of Brooklyn College, 2002.
Charlene Liu creates light, colorful, fantasy worlds by balancing intense color against stark white backgrounds. Narratives immerge as tiny figures and objects gradually become apparent to the viewer. Liu was born and raised in Taiwan. She lives and works in NY where she is represented by Virgil de Voldere Gallery.
Brian Murphy lives and works in Seattle where he shows with Platform gallery. He carefully layers abstract washes of color together to develop intense psychological self-portraits, sometimes huge, always very personal.
Amy Rathbone's watercolors hover between the abstract and the real, often delicate, sometimes humorous or bizarre. Born and raised in Ohio, Rathbone now lives and works in San Francisco where she has shown with Jack Hanley and Gregory Lind. She is represented by Gregory Lind.
Laurie Reid appears to drag the pigment across the paper inviting it to pool and stretch. The works, though large in scale, are intimate and sensitive. Reid lives and works in Berkeley, CA. Her work is in the collections numerous museums including MOMA, Philadelphia Museum of Art and The Whitney Museum of Art. Reid's work was last seen at Gallery Joe in "Accrescere" in 2004.
Charles Ritchie, working from life, paints in his suburban home outside of Washington, DC. Interiors and exteriors combine to create intimate self-portraits. Ritchie will have his first solo show with Gallery Joe in February.
Eleanor Wood lives half of the year in San Francisco and the other half in Norfolk, UK where she grew up. Working within the format of the grid Wood carefully applies washes gradually building up layers to create a rich and subtle surface. She is represented in England by Elm Hill Contemporary Art.
Water color: current views opens First Friday, Oct. 7 and runs through Saturday, Nov. 19, 2005. There will be an opening reception on First Friday, Oct. 7 from 6:30 - 8:30 P.M. Regular gallery hours are Wednesday through Saturday 12 - 5:30, other days by appointment. For additional information, contact Becky Kerlin, 215.592.7752, FAX 215.238.6923 or email mail@galleryjoe.com
Water Color - Current Views
Rebecca Bird
Matthew Bliss
Amy Cartwright
Harrison Haynes
Cheol yu Kim
Charlene Liu
Brian Murphy
Amy Rathbone
Laurie Reid
Eleanor Wood
07 Oct - 19 Nov 2005