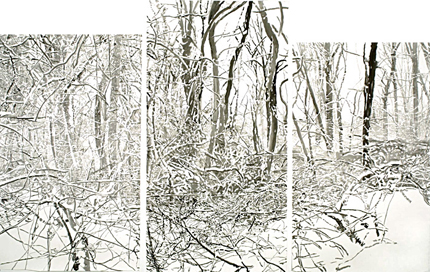 November 01 - December 20, 2003
Brush drawings and collages
EMILY BROWN – LARGE LUSH BRUSH DRAWINGS AT GALLERY JOE
Philadelphia, PA – Gallery Joe is pleased to announce a solo show by Philadelphia artist Emily Brown. Brush drawings and collages opens on Saturday, November 1. The exhibition will take place in both galleries and will continue through December 20, 2003.
Brush drawings and collages is Emily Brown's second solo show at Gallery Joe. She will exhibit 11 new works all completed this year. Last winter, while in residence at Macdowell Artist's Colony, Brown created a large triptych with Gallery Joe's Vault space in mind. Elegy, her largest work to date (99 x 164 inches) will grace the back wall of the Vault Gallery. This expansive work reflects Brown's growing self-assurance in the medium of brush and ink.
In the Front Gallery, Brown will show three more large drawings of trees. Two measure over six feet in length. In addition, she will show several smaller works from a new series of collages and montages. In two works, Choir and Winter Passages, small oval windows seem to open into the forest revealing a cameo image of a tree or a distant landscape.
Lush and dense, Brown's brushwork explores the effects of light on bare trees in a winter landscape. She has evolved a kind of shorthand notation with rapid strokes in dizzying complexity. The range of textures derived from the landscape become metaphors for an interior landscape of emotion.
Brown is the recipient of numerous grants and awards including the Leeway Foundation Grant for Excellence in works on paper, 2002 and the Pew Fellowship in the Arts, 2000 fellowship for painting. She has exhibited widely in the Philadelphia region, most recently at The Print Center, the List Gallery at Swarthmore College, Philadelphia International Airport, the Woodmere Art Museum, and the Philadelphia Museum of Art. In New York, she shows with Kate Ganz USA Ltd., and in Maine at ICON Gallery, Isolas Fine Art, and Maine Coast Artists. Brown lives and works in Philadelphia and in Maine.
Brush drawings and collages opens Saturday, November 1, and runs through December 20, 2003. The artist will be present at an opening reception on Saturday, November 1, from 3:00-6:00 P.M. Regular gallery hours are Wednesday through Saturday 12 - 5:30, other days by appointment. For additional information contact Becky Kerlin, 215.592.7752, FAX 215.238.6923 or email mail@galleryjoe.com. Images of Brown's work may also be seen on our web site at www.galleryjoe.com
Brush drawings and collages
01 Nov - 20 Dec 2003