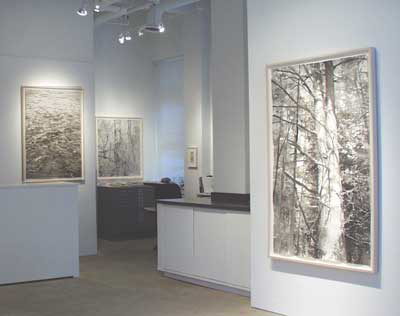 November 03 - December 23, 2000
Recent Drawings
EMILY BROWN – LARGE DRAWINGS AT GALLERY JOE
Philadelphia, PA – Gallery Joe is pleased to announce Recent Drawings an exhibition of works by Emily Brown opening on Friday, November 3. Gallery Joe will show Recent Drawings in the front gallery along with Drawings by Jacob El Hanani in the vault gallery. Both shows continue through December 23, 2000.
Recent Drawings is Emily Brown's first show at Gallery Joe. She will exhibit 11 new works all completed this year. Executed with brushes and sepia ink on paper they depict the dense woods and forest floors, seaweed and water grasses of Mid-coast Maine.
Known in Philadelphia for her oil paintings on canvas, Brown began exploring various media on paper in 1995. These material differences prompted shifts in scale leading to the completion of several drawings measuring 6 x 4 feet.
Brown's first solo show of drawings from this series was the premier exhibition of Kate Ganz USA Ltd. in New York. Of this work Gerrit Henry wrote:
Brown generates an almost calligraphic lyricism from a fairly conservative representational style. ….The effect is almost Abstract Expressionist – dense and kinetic, cerebral and sensory, monochromatic and luminous. (Art in America, March, 2000)
Brown is a 2000 Pew Fellow in painting. She is a graduate of the University of Pennsylvania. Recent exhibitions include solo shows at Kate Ganz USA Ltd. mentioned above, the College of the Atlantic in Maine and the Delaware Center for the Contemporary Arts in Wilmington. Her work has been exhibited widely in Philadelphia, including last year in A Grove of Trees at the Elgin Gallery at the Philadelphia Museum of Fine Art and Treasure Island, a special exhibition curated by Richard Torchia at the Locks Gallery.
Brown lives and works in Philadelphia. She and her husband Will also have a cottage in Maine where she created this body of work. Recent Drawings opens First Friday, November 3, and runs through December 23, 2000. The artist will be present at an opening reception on Friday, November 3, from 6:30- 8:30 P.M. Regular gallery hours are Wednesday through Saturday 12 - 5:30, other days by appointment. For additional information contact Becky Kerlin, 215.592.7752, FAX 215.238.6923 or email mail@galleryjoe.com
Recent Drawings
03 Nov - 23 Dec 2000