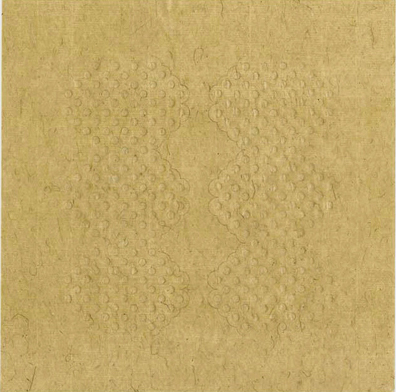 July 05 - August 03, 2013
Line, Color, and Form
FOR IMMEDIATE RELEASE
June 14, 2013
Line, Color, and Form at Gallery Joe
Philadelphia, PA It is with great pleasure that we announce the opening of the summer group show at Gallery Joe. Line, Color, and Form will be on view in the front gallery July 5 through August 3, 2013. There will be an opening reception for the artists on First Friday, July 5 from 6 - 8 pm.
Line, Color, and Form brings together five of Gallery Joe's artists, whose works are in essence explorations of the language and principles of abstraction. Nicole Phungrasamee Fein, Astrid Köppe, Kristin Holder, Alex Paik, and Lynne Woods Turner create meditative, sometimes ambiguous works, that tackle the 'traditional' concepts and vocabulary of abstract art: line, color and form.
Nicole Phungrasamee Fein is represented by a selection of large, 22 x 22 inch watercolor drawings. These quiet yet vibrant drawings are created through the process of layering many lines of watercolor with a wide brush onto the surface of the paper until the surface is saturated. Fein's drawings are in numerous public and private collections such as The Menil Collection, Houston, TX, Whitney Museum of American Art, NY and Berkeley Art Museum, Berkeley, CA. Nicole Fein lives and works in San Francisco.
Exhibiting for the first time at Gallery Joe, Astrid Köppe makes colorful, object-based drawings consistently small in scale. She draws from things she has seen in real life and filters them through her own perceptions. What remains are what she describes as, "subjective essences of objects." Köppe exhibits her work internationally, most recently at Galerie Carolyn Heinz, Hamburg, Germany, Gallery Dam, Seoul, Korea, Annexe Gallery, Malaysia and Centre for Recent Drawing, London. Astrid Köppe lives and works in Berlin, Germany.
Philadelphia based artist Kristin Holder uses a combination of vivid color, fine lines and dense application of pigment to push the boundaries of form. Holder's drawings are both intuitive and calculated; they explore the relationship between shapes and the space around them. Holder has participated in recent exhibitions at Kemper Art Museum at Washington University, St. Louis, MO, Katonah Museum of Art, Katonah, NY and Museo de Arte Contemporáneo Esteban Vicente, Segovia, Spain.
Alex Paik combines line, color and form in creating playful paper constructions. Inspired by classical music, his assemblages use color, repetition and movement to create different rhythms and allow for a call and response between the works and the viewer. Paik's training in classical violin deeply influences his work, both conceptually and in its interpretation of form. His work is included in the collections of AOL, Inc. and University of Texas at Tyler. Alex Paik lives and works in New York.
Living and working out of Portland, Oregon, Lynne Woods Turner's delicate, airy line drawings require close and slow examination. Underneath calm, organic patterning, Turner refines and distills complex geometrical forms into their most essential state. Turner's work is in the permanent collections of the Fogg Art Museum, Harvard University, the Museum of Modern Art, New York and the Hammer Museum, University of California, Los Angeles, among others.
Line, Color, and Form opens on First Friday, July 5 and continues through August 3. For additional information contact the gallery at 215.592.7752, mail@galleryjoe.com or www.galleryjoe.com
Line, Color, and Form
05 Jul - 03 Aug 2013