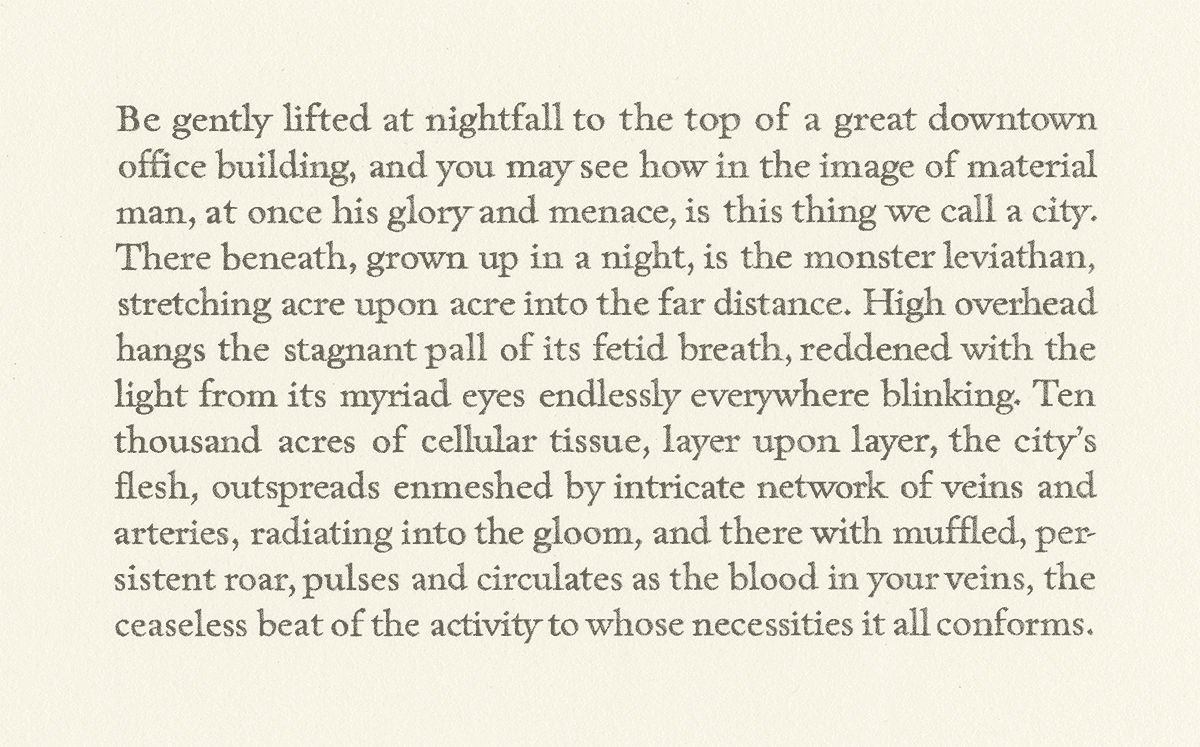 January 10 - February 28, 2015
"this thing we call a city"
FOR IMMEDIATE RELEASE
January 1, 2015
"this thing we call a city": Sharka Hyland at Gallery Joe
Philadelphia, PA – Philadelphia, PA – Gallery Joe is pleased to announce the opening of "this thing we call a city", a show of new drawings by Sharka Hyland. The exhibition opens in the Vault gallery on January 10 and runs through February 28, 2015. The opening reception will take place on Saturday, January 10 from 4-6 pm.
For her second solo exhibition at the gallery Hyland will show an installation of nine drawings. Selected passages from visionary texts reflecting views of the modern city are meticulously drawn in graphite and watercolor on paper.
Be gently lifted at nightfall to the top of a great downtown office building, and you may see how in the image of material man, at once his glory and menace, is this thing we call a city. — Frank Lloyd Wright, The Art and Craft of the Machine, 1901
This installation juxtaposes the diverse responses of poets and writers to the emergence of the modern metropolis. Written between the 1850s and the 1930s, the words of Walt Whitman, Charles Baudelaire, F. L. Wright, Franz Kafka, Ezra Pound, W. C. Williams and Walter Benjamin mirror the rapid transformation of urban life. The modern city inspires both awe and bewilderment, an urge to belong and a sense of alienation. In visually evocative texts the focal length of an image ranges from exchanging glances with a stranger on the street, to a bird's view of the city's complex structure.
Hyland is a 2015 Civitella Ranieri Visual Arts Fellowship winner and will attend the residency this summer in Umbria, Italy. Recent exhibitions include Crosswords 2, Lage Egal, Berlin, Germany and Jordan/Seydoux, Berlin, Swann's Way, Project Room, Conduit Gallery, Dallas, TX.
Hyland received her MFA from Yale University School Art. She attended École du Louvre, Paris, France where she studied Art History and Albert-Ludwig University, Freiburg, Germany where she completed a program in comparative literature. Sharka Hyland lives and works in Philadelphia.
"this thing we call a city" runs concurrently with In Line, drawings by Sharon Etgar, German Stegmaier, and Lynne Woods Turner in the Front gallery.
"this thing we call a city"
10 Jan - 28 Feb 2015