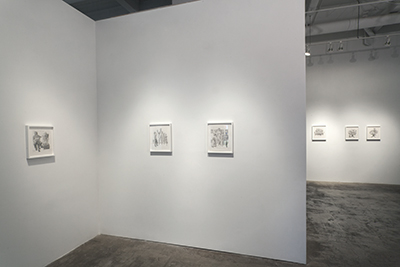 October 11 - November 22, 2014
Janus
FOR IMMEDIATE RELEASE
September 10, 2014
Rob Matthers – Janus at Gallery Joe
Philadelphia, PA – It is with great pleasure that Gallery Joe opens the season with Rob Matthews' fourth solo show of drawings at the gallery. Janus opens October 11 and runs through November 22, 2014. Matthews will speak about his work at the opening reception.
For over 14 years Rob Matthews was a familiar and active member of the Philadelphia art community. Last year, together with his small family he relocated to Nashville, Tennessee. The drawings in this exhibition arose from his reflection on life's transitions.
The work revolves around the idea of time and transition, …It's about looking forward, looking back and being stuck in the overlap of the two…. - Rob Matthews, 2014
In Roman mythology Janus is the god of beginnings and transitions. He is often pictured as having two faces since he looks both to the future and to the past. With deft draftsmanship Matthews embraces these concepts, gracefully meshing figures and spaces often overlapping and colliding over separate moments in time and from altered vantage points as they are synthesized.
Matthews' recent exhibitions include Portraiture Now: Drawing on the Edge, National Portrait Gallery, Washington, DC & Arkansas Art Center, Little Rock, 2013, Life and Casualty, Emory and Henry College, Emory, VA, Drawings, O'More College of Design, Franklin, TN, and Casual Male, Sherman Gallery, Boston University, Boston, MA.
Matthews is a recipient of a 2009 Pew Fellowship in the Arts. His drawings are in the collections of the Philadelphia Museum of Art, Pennsylvania Academy of the Fine Arts, North Carolina Museum of Art in Raleigh and deYoung Museum of Art in San Francisco, CA. He lives and works in Nashville, Tennessee.
Janus opens on October 11 and runs through November 22, 2014. Matthews will speak about his work at 5:00 PM during the opening reception, which will take place on Saturday, October 11 from 4:00-6:00 PM. Regular gallery hours are Wednesday through Saturday 12:00 – 5:30 PM and other days by appointment.
Janus
11 Oct - 22 Nov 2014