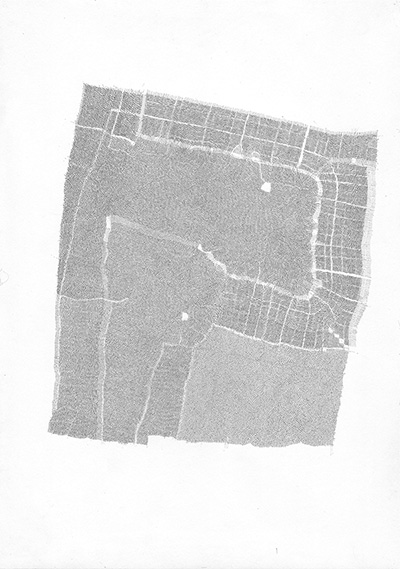 April 19 - May 31, 2014
Drawings
FOR IMMEDIATE RELEASE
March 22, 2014
Sebastian Rug – Drawings in the Vault at Gallery Joe
Philadelphia, PA – Gallery Joe is pleased to announce a solo show of drawings by Sebastian Rug. Drawings opens in the Vault Gallery on Saturday, April 19 and runs through May 31, 2014.
For Sebastian Rug's second exhibition at Gallery Joe he will show a group of six small graphite drawings. Each work is composed of minute marks and lines. Barely visible on the sheets are remnants of an underlying structure where the drawing begins. From there the drawing takes form through Rug's process, each small line leading to the next. As the drawing emerges it become more and more complex. Where are the first lines drawn and how are they connected?
"The more the work progresses, the more difficult it becomes, since the number of possible contact points increases while the drawing expands. …The works of Rug provide a unique view of the art of drawing and direct our eye to see the world in a new form." (Dr. Tobias Burg, in Sebastian Rug. Seeing in Drawing).
In 2013 the Museum Folkwang in Essen, Germany hosted Rug's first major museum exhibition, Seeing in Drawing. This survey then traveled to the Leonhardi-Museum in Dresden. A comprehensive catalogue Sebastian Rug. Seeing in Drawing was produced for the exhibition. Published by the Museum Folkwang and Leonhardi-Museum, Edition Folkwang/Steidl, 2013, it is available through the Museum Folkwang.
Sebastian Rug was born in Vacha/Röhn, Germany in 1974. After studying painting and graphic arts at the Academy of Fine Arts, Dresden, Rug attended the Academy of Visual Arts in Leipzig where he completed his post-graduate studies. Rug is represented by Galerie Werner Klein in Köln and Emmanuel Post in Leipzig, where he currently lives and works. Rug's work is included in the collections of the Kupferstichkabinett, Berlin, SØR Rusche Sammlung Oelde/ Berlin, Staatliche Kunstsammlungen Dresden, Kunstfonds and Städel Museum, Frankfurt/Main, among others.
Drawings opens in the Vault Gallery on Saturday, April 19 and runs through May 31, 2014. There will be a reception at the gallery on April 19 from 4 – 6 pm. Regular gallery hours are Wednesday through Saturday 12 – 5:30 pm and other days by appointment. For additional information visit the website at www.galleryjoe.com.
Drawings
19 Apr - 31 May 2014