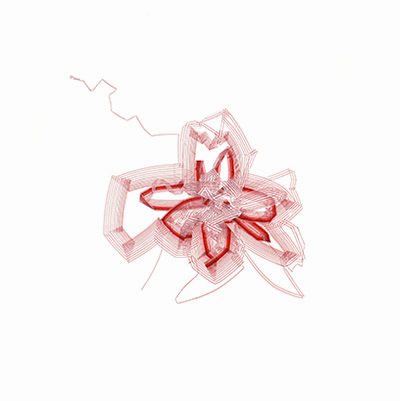 April 19 - May 31, 2014
Brilliant Corners
FOR IMMEDIATE RELEASE
March 22, 2014
Jill Baroff 's Brilliant Corners at Gallery Joe
Philadelphia, PA – It is with pleasure that Gallery Joe announces Jill Baroff 's first solo show of drawings at the gallery. Brilliant Corners opens in the Front Gallery Saturday, April 19 and runs through May 31, 2014.
Jill Baroff will show a number of works grounded in the movement of the tides. Acquiring detailed information from the internet where changing water levels are recorded, she creates precise drawings of extreme delicacy. Drawn on gampi paper, these delicate works are then cut and mounted onto rag paper. The titles of the drawings are the locations of the information she has gathered. Of this exhibition Barrof writes –
All of the drawings in the exhibition (with the exception of the drawing of the Elbe river surge), begin in the same way: tide charts for New York Harbor are consulted and serve as the numerical basis for the concentric circular patterns that are drawn with ink on Japanese gampi. 'round midnight, In Walked Bud and the riff drawings are a new take on the original Tide Circle series. The interval of time tends to be more brief and the lines float more freely as the result of cuts which release the tension of the paper when introduced to water.
Many of the titles in this new iteration come from Thelonious Monk standards, whose musical genius changed the way I understood time, (timing) and who rarely traveled in a straight line. – Jill Baroff, 2014
Baroff is currently in Hamburg, Germany where she was invited along with a few other artists to create an installation based on her reflections on the city of Hamburg. Lichtwark Revisited: artists' views of Hamburg, Hamburger Kunsthalle in Hamburg, Germany runs from May to September. Other recent exhibitions include Simply Drawn, Columbus Museum, Columbus, GA, and Regarding the Forces of Nature: From Alma Thomas to Yayoi Kusama, Bowdoin College Museum of Art, Brunswick, ME.
Baroff 's drawings are included in the collections of the Museum of Modern Art, New York, NY, National Gallery of Art, Washington, D.C., Menil Collection, Houston, TX, and Baltimore Museum of Art, Baltimore, MD, among others. Jill Baroff lives and works in Newburgh, NY.
Brilliant Corners opens in the Front Gallery on Saturday, April 19 and runs through May 31, 2014. The artist will be present at a reception at the gallery on April 19 from 4 – 6 pm. For additional information visit the website at www.galleryjoe.com
Brilliant Corners
19 Apr - 31 May 2014