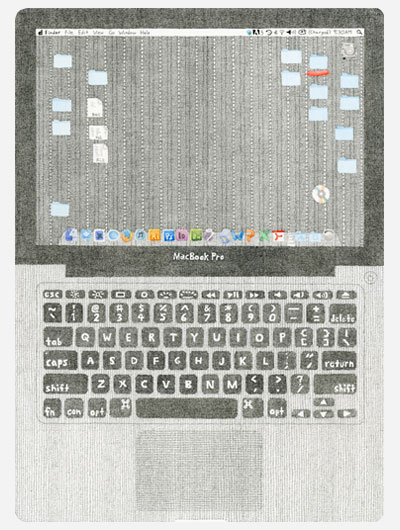 February 07 - March 22, 2014
a little bit every day
FOR IMMEDIATE RELEASE
January 8, 2014
Mia Rosenthal: a little bit every day at Gallery Joe
Philadelphia, PA – It is with great pleasure that Gallery Joe announces a little bit every day, Mia Rosenthal's second solo show of drawings. The show opens February 7 and runs through March 22, 2014. The opening reception will take place on First Friday, February 7 from 6 - 8 pm.
In a little bit every day Rosenthal observes her own personal process of making art, from daily encounters with her computer gathering information for her work, to personal reflections on how life itself miraculously unfolds "a little bit every day."
The centerpiece of the show is a large drawing titled 'Life on Earth,' a spiraled work of 1,000 creatures, beginning with a single-celled organism 3.8 billion years ago, and moving through time to early ocean life, plants, mammals, dinosaurs, primates, and the domestication of plants and animals through genetically modified organisms and synthetically created life forms. Her source material comes from Wikipedia and other Internet sources where she conducts research and finds imagery.
Of this new body of work artist Todd Keyser writes,
"Rosenthal sets out to re-engage the spectator with an 'open inquiry' by presenting the spectator with her own practice, which incorporates both its avant-garde roots and traditional handcraft. Mia Rosenthal's Life on Earth is an affirmation of life itself, while also simultaneously emitting the symbol for entropy, reminding us that all things are subject to change. As a result, Rosenthal's exhibition offers the spectator multiple points of view ranging from the subject matter, to the construction of these drawings, and what they might mean in the larger context of aesthetic consideration."
Rosenthal's recent exhibitions include Drawn to Nature at the Glyndor Gallery, Wave Hill, Bronx, NY, Here and Now: Prints, Drawings and Photographs by 10 Philadelphia Artists at the Philadelphia Museum of Art, and 5 to Watch at the Avery Galleries, Bryn Mawr, PA.
Rosenthal was awarded her MFA from the Pennsylvania Academy of the Fine Arts in Philadelphia and her BFA from Parsons School of Design in New York. Her drawings are included in the collections of the Philadelphia Museum of Art and the Pennsylvania Academy of the Fine Arts, as well as numerous private collections. Mia Rosenthal lives and works in Philadelphia.
a little bit every day opens on February 7 and runs through March 22, 2014. The artist will be present at a reception on First Friday, February 7 from 6 - 8 pm. Regular gallery hours are Wednesday through Saturday 12 - 5:30, other days by appointment. For additional information contact, 215.592.7752, mail@galleryjoe.com or www.galleryjoe.com
a little bit every day
07 Feb - 22 Mar 2014