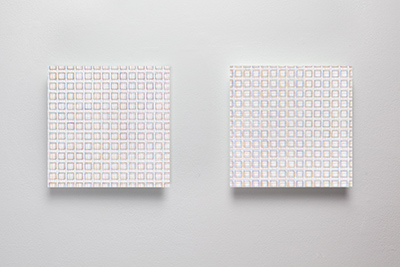 November 23 - January 18, 2014
Sample(d)(r)
FOR IMMEDIATE RELEASE
November 1, 2013
Astrid Bowlby at Gallery Joe
Philadelphia, PA – It is with great pleasure that Gallery Joe presents Sample(d)(r), Astrid Bowlby's fifth solo show of drawings at the gallery. Sample(d)(r) opens November 23 and runs through January 18, 2014. There will be a discussion conducted by the artist during the opening Saturday, November 23 from 5 -7 P.M.
Sample(d)(r) presents a series of 15 pairs of drawings, 9 x 9 inch squares, installed throughout the gallery. New mixed media works are exhibited along side Bowlby's familiar densely worked ink drawings. Though the drawings are shown in pairs, only one piece from each pair is available for purchase. The collector will choose.
The title of the exhibition [Sample(d)(r )] says a lot. I am making pairs of drawings that are very, very similar, but not exactly the same. I work on them at the same time and have no hierarchical feeling toward them. I keep one and the other one can go away. Someone else gets to choose. There is no original, really. They are samples of each other…. This concept is in response to a deep-seated feeling of loss in my studio and an inability to reconstruct a train of thought through memory only.
– Astrid Bowlby
Bowlby is a 2012 winner of West Collects, acquisitions by the West Collection. Her installation Everything, an ongoing drawing project is currently in process at SEI, Oaks, PA. For this project Bowlby is conducting a series of workshops with the employees of SEI to make drawings that are then added to the installation. Bowlby's work is also currently on view in Philadelphia at the Kimmel Center, SEI Innovation Studio, through the partnership of the Kimmel Center, the West Collection, and SEI. Bowlby's installation Everything was conceived and realized while she was a Visiting Artist-in-Residence at the University of Southern Maine this past year.
Sample(d)(r)
23 Nov - 18 Jan 2014