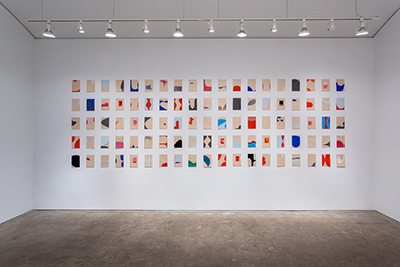 October 04 - November 16, 2013
studyline.
FOR IMMEDIATE RELEASE
September 10, 2013
Allyson Strafella: studyline.
Philadelphia, PA It is with great pleasure that Gallery Joe opens the season this year with studyline., a solo show of drawings by Allyson Strafella. Opening on Friday, October 4, studyline. runs through November 16, 2013.
For her second solo show at the gallery, Strafella will exhibit two distinct but closely related bodies of work. In the front gallery she will show a number of new typewriter drawings. Included will be large-scale works completed using a custom built typewriter that accommodates large sheets of paper. Unlike her earlier works that dealt with notions of fragility, her new drawings are both bold and colorful embracing abstraction in a way that is quite new to Strafella.
In the vault gallery Strafella will present a series of small pencil, pastel and chalk drawings. Intimate in scale, (6 x 9 inches) and numbering nearly 65 pieces, this body of work has evolved over the past year. Originally conceived as preparatory sketches for her better-known typewriter drawings, this series has assumed particular importance to Strafella and will be shown in its entirety.
Strafella is the recipient of a John Simon Guggenheim Memorial Foundation Fellowship. She has attended residency programs at the Dieu Donne Papermill, New York, NY, Yaddo, Saratoga Springs, NY and MacDowell Colony, Peterborough, NH. Her drawings are included in the collections of The Metropolitan Museum of Art, The Museum of Modern Art, NY, The Hammer Museum, Los Angeles, and The Fogg Art Museum, Harvard University, Cambridge, MA among others. Allyson Strafella lives and works in Hudson, NY.
studyline. opens on Friday, October 4 and runs through Saturday, November 16, 2013. The artist will be present at an opening reception on First Friday, October 4 from 6-8 PM. Regular gallery hours are Wednesday through Saturday 12 - 5:30, other days by appointment. For additional inaformation, visit our website at www.galleryjoe.com or call 215.592.7752
studyline.
04 Oct - 16 Nov 2013