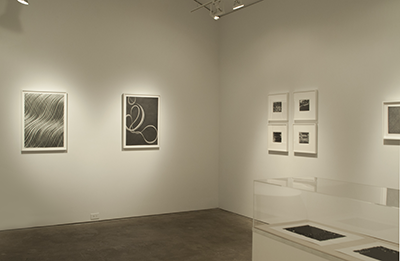 May 03 - June 22, 2013
All Black
FOR IMMEDIATE RELEASE
April 5, 2013
All Black at Gallery Joe
Philadelphia, PA – Gallery Joe is pleased to present All Black, a group show of drawings opening Friday, May 3 and running through Saturday, June 15, 2013. There will be an opening reception on First Friday, May 3 from 6:00–8:00 P.M.
As the title suggests, this show gathers together nine artists who work extensively in the color black. Though line is incorporated in the execution of some of these works, the focus of this show is on field, form, and texture. Works are in ink, graphite, charcoal, and carbon. Artists included in the exhibition are: Astrid Bowlby, N. Dash, Roland Flexner, Kristin Holder, Xylor Jane, Jill O'Bryan, Mark Sheinkman, Allyson Strafella, and Jorinde Voigt.
Astrid Bowlby shows two densely worked ink drawings. The drawings appear to be identical, but on close inspection, subtle tonal differences emerge. Recent exhibitions include Everything, a drawing installation at the University of Southern Maine where Bowlby has been an artist in residence this semester. Bowlby lives and works in Philadelphia.
N. Dash is showing two graphite and paper pieces from her Commuter Series. Heavily handled on both sides of the paper, these works evoke the passage of time, engagement and disintegration. All Black is Dash's first exhibition at Gallery Joe. She lives and works in New York.
Roland Flexner shows works in liquid graphite on paper. Flexner's approach to drawing relies heavily on elements of chance and spontaneity. Through careful manipulation of the materials, sometimes even blowing through a straw Flexner achieves sumptuous imagery evocative of fantastical landscape. Flexner was born in Nice, France and lives and works in New York.
Kristin Holder lives and works in Philadelphia. Her charcoal drawings are based on simple acts of chance and perceptions of perfection. She shows two small charcoal drawings. For Holder, drawing is thinking and a means by which to resolve the duality of reality as we know it and reality as we see it.
Xylor Jane's drawings derive from her deep understanding of mathematics, numerical sequences, and prime numbers. In addition to new work, Jane shows two drawings from 2005 in which she tests her ability to create a perfect cube and a perfect circle without the aid of a measuring devise. A former resident of Philadelphia, Jane currently lives and works in Greenfield, MA.
Jill O'Bryan lives and works in New York and New Mexico. Her breath drawings are meditations. A mark is drawn during the time it takes to breathe one breath (one inhale and one exhale). Each drawing is named with the total number of breath marks, and the dates between which the drawing was made.
Mark Sheinkman's drawings evolve through the process of removal. His materials are liquid graphite and a means of erasing the graphite, sometimes a rag or a large eraser. His content may be lyrical or highly structured. Sheinkman lives and works in New York.
Allyson Strafella has been working with a typewriter, making drawings for over 17 years. The results of this work are drawings of extreme delicacy. Often typed directly on carbon paper, Strafella pushes the paper to the absolute limit of its ability to capture the stroke of the typewriter. Strafella lives and works in Hudson, New York.
Jorinde Voigt's gestural brush drawings reflect her interest in movement and music. In these works her brush laden with ink moves briskly across the paper leaving an immediate and confident gesture. Voigt was born in Frankfurt and currently lives and works in Berlin.
All Black opens First Friday, May 3 and runs through Saturday, June 15, 2013. There will be an opening reception on First Friday, May 3 from 6:00–8:00 P.M. Regular gallery hours are Wednesday through Saturday 12–5:30, other days by appointment. For additional information, contact 215.592.7752, or visit our website www.galleryjoe.com
All Black
03 May - 22 Jun 2013