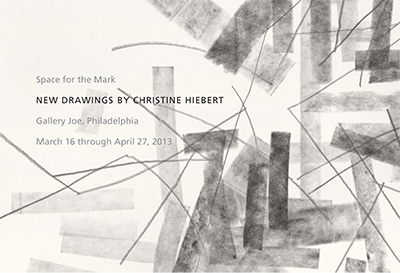 March 16 - April 27, 2013
Space for the Mark
FOR IMMEDIATE RELEASE
February 9, 2013
Space for the Mark at Gallery Joe
Gallery Joe is pleased to announce Space for the Mark, Christine Hiebert's fourth solo show of drawings at Gallery Joe. The exhibition opens on March 16 and runs through April 27, 2013.
Space for the Mark is an exhibition of new large-scale drawings by Christine Hiebert. Completed in 2012, these drawings are the most recent demonstrations of a 23-year-long engagement with abstract drawing and the gestural line. Marks are laid down with block printing ink, charcoal and graphite to create sensitive relationships that command, enlarge, and push freely into space. Showcased is a very tall sentinel-like drawing on a thin, banner-like sheet of paper rdl.12.18 (130" x 42"). An abstract configuration of industrial-seeming lines appears to "look down upon" the viewer in a way that is both confrontational and inviting. Other large drawings such as rdl.12.9 (50" x 42") sized more closely to the human body, are amalgams of marks that feel "unbound"; they find a calmer, if sometimes inexplicable, resolution without losing their sense of individual emancipation.
Lilly Wei, who contributes an essay for the exhibition catalogue, writes, Christine Hiebert's antennae are preternaturally acute, surveying nature and her environs as an artist would, as an architect, even, profoundly engaged by the world's diversity, wondering about the "compatibility of disparate scales and disparate beings and how they co-exist."
Hiebert has exhibited widely both in the US and abroad, most recently in Art=Text=Art, Zimmerli Art Museum at Rutgers University, New Brunswick, NJ. She is known for both her drawings on paper as well as her temporary blue tape wall drawings, which have appeared on the walls of institutions such as the Pinakothek der Moderne, Munich, Germany, The Drawing Center, New York, and The Addison Gallery of American Art, Andover, MA.
Hiebert's work is included in the collections of the Metropolitan Museum of Art, the Museum of Modern Art, and the Whitney Museum of American Art in New York, Philadelphia Museum of Art, The Hammer Museum, Los Angeles, Fogg Art Museum, Cambridge, MA, The Menil Collection, Houston, TX, Yale University Art Gallery, New Haven, CT, and The Kolumba Museum in Cologne, Germany.
Born in Basel Switzerland, Hiebert grew up and studied art in Philadelphia. She currently lives and works in Brooklyn, NY. The artist will be present at an opening reception on Saturday, March 16 from 4:00 – 6:00 P.M. Regular gallery hours are Wednesday through Saturday 12 – 5:30, other days by appointment. For additional information contact 215.592.7752 or mail@galleryjoe.com. A link to the online exhibition catalogue is available for viewing on our website www.galleryjoe.com
Space for the Mark
16 Mar - 27 Apr 2013