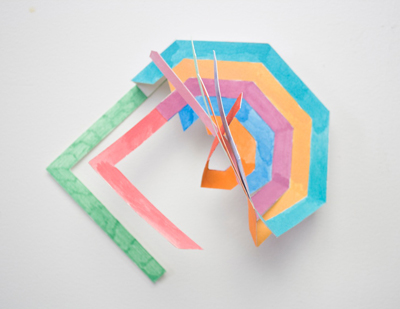 October 05 - November 10, 2012
Recapitulation Bop
FOR IMMEDIATE RELEASE
September 21, 2012
RECAPITULATION BOP ALEX PAIK AT GALLERY JOE
Philadelphia, PA – It is with great pleasure that we announce the opening of the first solo show by Alex Paik at Gallery Joe. Recapitulation Bop opens in the Vault Gallery October 5 and runs November 10, 2012. There will be an opening reception for the artist on First Friday, October 5 from 6 - 8 pm.
Alex Paik will show 10 - 12 small paper constructions from Prelude and Fugue, a series of works numbering 32 works to date. Also trained as a classical violinist, Paik finds inspiration in music.
"Classical music has a very specific type of abstraction inherent to it, and that way of thinking has significantly shaped the way I approach art. … I'm interested in exploring musical structures and bringing those into my work — right now I am mostly interested in fugues, [and] the polyphonic improvisation found in early jazz… I am very attracted to work that is simultaneously super abstract/cerebral and intimate, even humble…" (from an interview with Matthew Sepielli, 2011).
Each small construction is composed of cut and folded paper, with gouache and colored pencil. Through his clever use of repetition, and bright lighthearted color, Paik creates whimsical, often childlike works that hang directly on the wall. Sometimes humorous, they are also astute and serious.
Paik is a founding member of Tiger Strikes Asteroid, an alternative exhibition space in Philadelphia. His recent shows include Lighten Up, Gallery Joe, Work! We Are No Strangers, Crane Arts, Philadelphia, and Get on the Block, Camel Art Space, Brooklyn, NY. Paik was awarded his MFA from University of Pennsylvania in 2005 and his BFA from Pennsylvania State University in 2003. His work is included in the collections of AOL, Inc. and University of Texas at Tyler. Alex Paik lives and works in New York City.
Recapitulation Bop opens in the Vault Gallery on First Friday, October 5 and continues through November 10. For additional information contact the gallery at 215.592.7752. mail@galleryjoe.com or www.galleryjoe.com
Recapitulation Bop
05 Oct - 10 Nov 2012