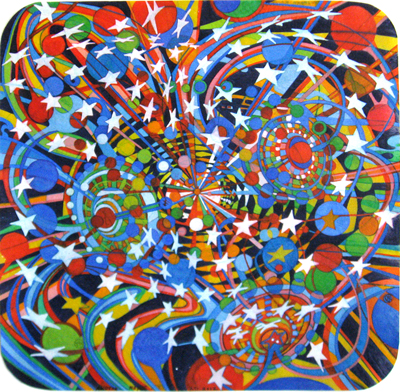 June 09 - July 28, 2012
Lighten Up
FOR IMMEDIATE RELEASE
June 2, 2012
LIGHTEN UP AT GALLERY JOE
Philadelphia, PA – Gallery Joe is pleased to announce Lighten Up, a summer show of video and drawing, with works by Ati Maier, Alexander Paik and Allyson Strafella. The exhibition opens on June 9 and continues through July 28, 2012. There will be a reception on Saturday, June 9 from 4 - 6 pm.
Lighten Up brings together three artists who incorporate light, color, airiness and vibrancy in their work. In the vault gallery Ati Maier shows her video, Event Horizon. In the front gallery, all three artists show their drawings.
Ati Maier uses digital technology in the development of her work to create futuristic fantastic images that invite the viewer into an imaginary universe. Maier is a graduate of the Hochschule für Angewandte Kunst, Vienna, Austria. Recent exhibitions include solo shows at Gallery Nusser & Baumgart, Munich, Pierogi Gallery, Brooklyn, NY and Dogenhaus Gallery, Leipzig. Her work is included in The Judith Rothschild Foundation Contemporary Drawings Collection at the MOMA in New York, the Museum of Modern and Contemporary Art of Rovereto and Trentino in Italy, as well as the Bergmeier Collection at the Museum der Bildenden Kunste in Leipzig. Maier began showing at Gallery Joe in 2001. She lives and works in Berlin and New York.
Alexander Paik has his debut at Gallery Joe in Lighten Up. He makes small drawn paper constructions often inspired by music. Brightly colored and whimsical these complex structures combine geometry with a bit of humor. Paik is known in Philadelphia as a founding member of Tiger Strikes Asteroid, an alternative exhibition space. He was awarded his MFA from University of Pennsylvania in 2005 and his BFA from Pennsylvania State University in 2003. His work is included in the collections of AOL, Inc. and University of Texas at Tyler. In October Paik will have his first solo show at Gallery Joe. He lives and works in New York.
Allyson Strafella creates fragile, organic images that emerge out of the manipulation of paper often with the help of a manual typewriter. In Lighten Up she shows two 60 x 40 inch pigmented pulp drawings of hand made paper completed during a residency at Dieu Donné Paper Mill, NY in 2008. Currently Strafella is attending her second residency at the Dieu Donné. Recent exhibitions include solo shows in 2011 at Gallery Joe, Philadelphia, and Von Lintel Gallery, New York. Strafella's drawings are included in the collections of The Metropolitan Museum of Art, The Museum of Modern Art, NY, The Hammer Museum, Los Angeles, and The Fogg Art Museum, Harvard University, Cambridge, MA among others. Strafella is the recipient of a John Simon Guggenheim Memorial Foundation Fellowship. She lives and works in Hudson, NY.
Lighten Up opens Saturday, June 9 and runs through July 28, 2012. There will be a reception for the artists on Saturday, June 9 from 4 - 6 PM. Regular hours in June: Wednesday through Saturday 12 - 5:30, Summer hours in July: Thursday - Saturday 12-5:30. For additional information 215.592.7752 mail@galleryjoe.com. or www.galleryjoe.com.
Lighten Up
09 Jun - 28 Jul 2012