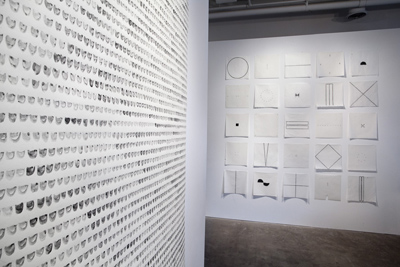 April 28 - June 02, 2012
rock, paper, breath
FOR IMMEDIATE RELEASE
March 30, 2012
JILL O'BRYAN'S ROCK, PAPER, BREATH AT GALLERY JOE
Philadelphia, PA – Gallery Joe is pleased to announce Jill O'Bryan's first major solo exhibition, rock, paper, breath. The exhibition opens on Saturday, April 28 and runs through June 2, 2012. The opening reception will be held on Saturday, April 28 from 4 – 6 pm.
Jill O'Bryan began her career as a painter in San Francisco. Intrigued by the idea of placing her body at the center of the art making process, she embarked on series of drawings that have defined her artistic endeavors.
In reference to these drawings O'Bryan states,
Driven by desires to be present in the body, yet also to surpass experiences of embodiment, my work is performed in relation to aspects of the environment with which we are constantly touching: the architecture, the ground, the air.
rock, paper, breath will have on display both small, monochrome breath drawings as well as rock drawings, up to 80 x 80 inches in scale. The breath drawings are graphite markings of the artist's breath (one inhale and one exhale), which she refers to as meditations on her own presence in the act of drawing. Similar in concept, the rock drawings engage the artist's entire body: sprawled onto a sheet of paper, she rubs the surface with graphite, recording her interaction with the texture and physicality of a rock.
Her recent exhibitions include Art=Text=Art: Selections from the Sally & Wynn Kramarsky Collection at the University of Richmond Museum and Zimmerli Art Museum at Rutgers University, Notations: Contemporary Drawing as Idea and Process at the Mildred Lane Kemper Art Museum, Washington University, Works on Paper at Danese Gallery in New York and Very Very LARGE Drawings at Gallery Joe.
O'Bryan was awarded a Ph.D from New York University in visual studies and an MFA from the San Francisco Art Institute. She lives in New York City and Eastern New Mexico.
rock, paper, breath opens on April 28 and runs through June 2, 2012. The artist will be present at a reception on Saturday, April 28, from 4 – 6 pm. Regular gallery hours are Wednesday through Saturday, 12 – 5:30 pm, other days by appointment. For additional information contact 215.592.7752, mail@galleryjoe.com or www.galleryjoe.com.
rock, paper, breath
28 Apr - 02 Jun 2012