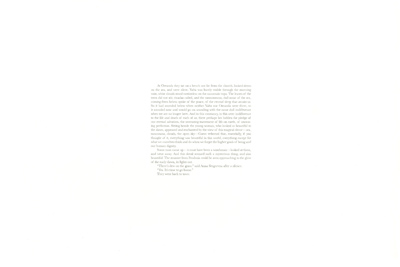 March 03 - April 14, 2012
show, don't tell
FOR IMMEDIATE RELEASE
February 15, 2012
show, don't tell: Sharka Hyland at Gallery Joe
Philadelphia, PA – Gallery Joe is pleased to announce the opening of show, don't tell, the first solo show of drawings by Sharka Hyland. The exhibition opens in the Vault gallery on March 3 and runs through April 14, 2012. The opening reception will take place on Saturday, March 3 from 5-7 pm. On First Friday, March 2, the gallery will be open for a preview from 5-7:30 pm.
Hyland will show eleven works, all graphite on paper, 12 x 18 inches. Each drawing presents a passage by a great writer – Flaubert, Tolstoy, and Nabokov, among others. Most texts are in English; some passages are drawn both in their original language and in translation.
Of this body of work Hyland says:
I would like to suggest that there are instances of literary rendering in which the image is so flawlessly formed by language that it cannot be transposed into another medium. It exists fully (as an amalgam) only in the reader's mind.
…
I have been searching for …such images and rendering them as pencil drawings. While the passages can of course be presented as mechanical facsimiles of printed pages, I believe that by drawing the letters one by one I emphasize the visual quality of the literary image. – Sharka Hyland, 2011
Hyland was awarded her MFA from Yale University School Art in graphic design. She attended Ecole du Louvre, Paris where she studied Art History and Albert-Ludwig University, Freiburg, Germany where she completed a program in comparative literature. Born in Czechoslovakia, Hyland immigrated to the US in 1984. Since 1992 she has lived and worked in Philadelphia.
Recent exhibitions in Philadelphia include Islanded, Inliquid, Crane Hall, 32nd Annual Wind Challenge Exhibition, Fleisher Art Memorial, and Line and Time and Space at Gallery Joe. In 2009 Hyland was invited to exhibit her drawings in The 2nd Bangkok Triennale International Print and Drawing Exhibition, Bangkok, Thailand.
show, don't tell
03 Mar - 14 Apr 2012