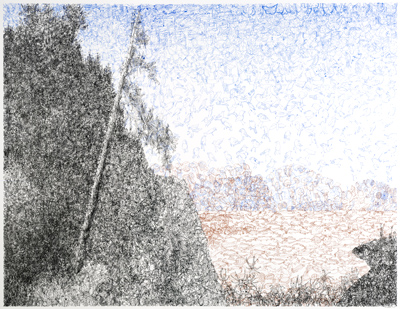 March 03 - April 14, 2012
American Landscapes
FOR IMMEDIATE RELEASE
February 15, 2012
Mia Rosenthal's American Landscapes at Gallery Joe
Philadelphia, PA – It is with great pleasure that Gallery Joe announces the first solo show of drawings by Mia Rosenthal. American Landscapes opens on March 3 and runs through April 14, 2012. The opening reception will take place on Saturday, March 3 from 5-7 pm. The gallery will also be open for a preview on First Friday, March 2 from 5-7:30 pm.
An avid documenter, Rosenthal gathers data from all manner of sources such as boxes of cereal, stamp collections or television shows. Once she has gathered her data, she begins her drawings. In her new series American Landscapes, Rosenthal examines the flora and fauna of the Hudson River Valley. All of her research is done from her own home over the internet from sites such as US Fish and Wildlife Service Conservation Library or USDA Natural Resources Conservation Service. Thousands of sketches provide her source materials.
Of this series Rosenthal states,
I am currently creating drawings as an homage to the Hudson River School. In the iconic paintings of such artists as Thomas Cole, Frederic Edwin Church, and Albert Bierstadt, there is a celebration of the American landscape and bounty of nature.
…
I was interested in doing my own celebration of the bounty of nature, through drawing the immense variety of living organisms including: mammals, birds, insects, butterflies, reptiles, amphibians, fish, crustaceans, plants, fungi and microorganisms. Using the literal geographic confines of the Hudson River Valley, I used the Internet to research life forms present in that area… – Mia Rosenthal, 2012
Her recent exhibitions include Here and Now: Prints, Drawings and Photographs by Ten Philadelphia Artists at the Philadelphia Museum of Art, Narcissus in the Studio: Artist Portraits and Self-Portraits, Pennsylvania Academy of the Fine Arts, and new talent, Gallery Joe.
Rosenthal received her BFA from Parsons School of Design in New York and her MFA from the Pennsylvania Academy of the Fine Arts in Philadelphia. Her drawings are included in the collections of the Museum of the Pennsylvania Academy of the Fine Arts, and the Philadelphia Museum of Art, as well as numerous private collections. Mia Rosenthal was born and raised in Rhode Island. She lives and works in Philadelphia with her husband Scott and son Kirby.
American Landscapes
03 Mar - 14 Apr 2012