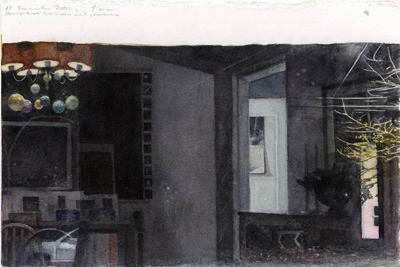 September 24 - October 22, 2011
Dust and Shade: Drawings by Charles Ritchie
FOR IMMEDIATE RELEASE
September 1, 2011
DUST AND SHADE: DRAWING S BY CHARLES RITCHIE AT GALLERY JOE
Philadelphia, PA – Gallery Joe is pleased to open the season with an exhibition of drawings by Charles Ritchie. Dust and Shade: Drawings by Charles Ritchie opens on September 24 and continues through October 22, 2011. There will be a reception for the artist on Saturday, September 24 from 5-7 p.m.
For his third solo exhibition at Gallery Joe, Ritchie will show 27 drawings completed in the last two years. The works are in a variety of sizes, the smallest 3 ¾ x 2 ¼, the largest 18 x 22 inches. Intimate in both scale and subject matter, Ritchie draws what is most near and dear to him; his studio, his home, and surrounding houses in the small cul-de-sac where his lives in Silver Spring, Maryland.
The drawings are both monochrome and color. Some are all graphite. Most contain some mixture of the following media: graphite, conté crayon, watercolor, pen and ink, and gouache. A set of three drawings was done quickly, two hours each. Many drawings were done over periods of years. One drawing is still being developed after twenty-five years.
In addition to the drawings, Ritchie will show several journals. Since 1977, he has recorded images and notes in a series of sketchbook/journals that now number 135 books. These volumes are both settings for intimate watercolor studies as well as dream repositories.
Ritchie's work is included in the collections of The Baltimore Museum of Art, Baltimore, MD, Fogg Art Museum, Harvard University Art Museums, Cambridge, MA, The Metropolitan Museum of Art, NY, National Gallery of Art, Washington, DC, Philadelphia Museum of Art, PA, Virginia Museum of Fine Arts, Richmond, VA, and Yale University Art Gallery, New Haven, CT. He is the recipient of the Franz and Virginia Bader Fund, 2005 and five Maryland State Arts Council's Individual Artist Awards.
Dust and Shade: Drawings by Charles Ritchie runs from September 24 through October 22, 2011. Regular gallery hours are Wednesday through Saturday 12–5:30, other days by appointment. For additional information contact the gallery at 215.592.7752, mail@galleryjoe.com or www.galleryjoe.com
Dust and Shade: Drawings by Charles Ritchie
24 Sep - 22 Oct 2011