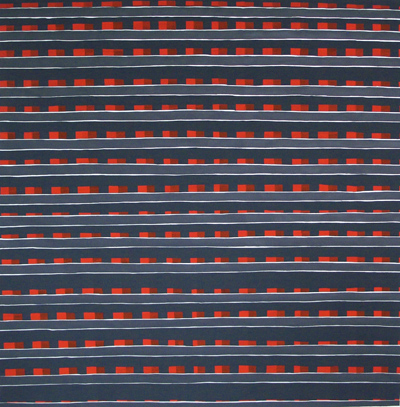 May 06 - June 11, 2011
Out of Line
FOR IMMEDIATELY RELEASE
April 21, 2011
SABINE FRIESICKE: OUT OF LINE AT GALLERY JOE
Philadelphia, PA – Gallery Joe is pleased to present an exhibition of gouache drawings by Sabine Friesicke. Out of Line opens in the Front Gallery on Friday, May 6 and continues through June 13, 2011. Out of line runs concurrently with an exhibition of drawings by Allyson Strafella in the Vault Gallery.
Out of Line is Friesicke's second solo show with Gallery Joe. As in the past, all of the works are gouache on paper. They range in size from 11 x 11 to 45 x 45 inches. In her new work Friesicke explores the subtlety of the color gray. Hints of pink gouache and graphite enliven these works to create constantly changing surfaces as the light filtering into the gallery changes from high noon to dusk. The grid is always the foundation for Friesicke's drawings. However, Friesicke remarks that in these works the "grid is breaking apart" becoming less specific, the strict horizontal and vertical orientation giving way to a strong diagonal, or even to elements of randomness.
Using a brush Friesicke works from left to right and top to bottom. Multiple layers reveal remnants of the layers that lie beneath, a tiny dot of pink, a spec of silver. She works in this way until the fine lines reveal a new pattern. "The drawings evolve by layering line upon line upon line….I am interested in the underlying stillness and the subtle rhythm of space and time. …My focus and goal is to express that which is not changing."
Friesicke was awarded a Pollack-Krasner Foundation Grant in 2010. Her recent solo exhibitions include Gold at Gallery Joe in 2009 and OST WEST, Luftraum Berlin, Berlin, Germany, 2008. Her work is included in the collections of the Davis Museum, Wellesley College, Wellesley, MA, Birmingham Museum of Art, Birmingham, AL, Hood Museum of Art, Dartmouth College, Hanover, NH, Weatherspoon Art Museum, University of North Carolina at Greensboro, Greensboro, NC, UCLA Hammer Museum, Los Angeles, CA, and New Mexico Museum of Art, Santa Fe.
Born and raised in Hamburg, Germany, Friesicke studied at the Freie Kunst at HfBk Hamburg (Academy for Visual Arts) and at the Liberal Academy of Arts, Hamburg, founded by Joseph Beuys and his students. Friesicke lives and works in New York where she has maintained her studio for over 20 years.
Out of Line opens on Friday, May 6 and runs through Saturday, June 13, 2011. The artist will be present at an opening reception on First Friday, May 6 from 6-8 PM. Regular gallery hours are Wednesday through Saturday 12 - 5:30, other days by appointment. For additional information, visit our website at www.galleryjoe.com for contact Becky Kerlin, 215.592.7752
Out of Line
06 May - 11 Jun 2011