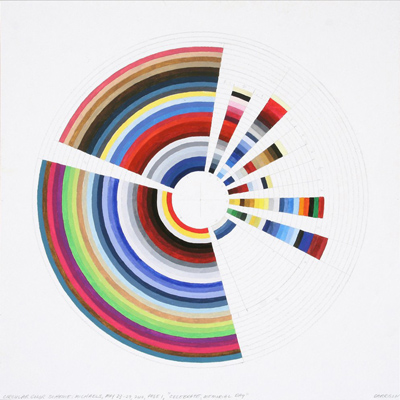 November 20 - December 18, 2010
new talent 2010
FOR IMMEDIATELY RELEASE
November 8, 2010
NEW TALENT 2010 - AT GALLERY JOE
Philadelphia, PA – Gallery Joe is pleased to announce new talent 2010, an exhibition of drawings opening on Saturday, November 20 and continuing through December 18, 2010. Four artists, all new to the gallery, will be in the show. They are Martin Brief, Richard Garrison, Molly Heron and Mia Rosenthal.
A familiar face in Philadelphia, Mia Rosenthal is currently exhibiting drawings in both Narcissus in the Studio: Artist Portraits and Self-Portraits and Same: Difference at the Pennsylvania Academy of the Fine Arts. For her debut at Gallery Joe she will show two new works from her series Antoinette's Stamp Collection inspired by her late aunt's voluminous collection saved over decades. Delicate, yet humorous, these intimate ink and gouache renderings are modest in scale, measuring 15 x 15 inches. A recent graduate from the MFA program at Pennsylvania Academy of the Fine Arts, she earned her BFA from Parsons School of Design, in NY in 1999. Mia works in South Philadelphia where she lives with husband Scott and new baby Kirby.
The advertisement circulars in the Sunday morning newspapers serve as the inspiration for Richard Garrison's gouache and watercolor drawings. These schematic drawings record his observations and interactions with suburban life in the form of colors mapped onto grids. Recent exhibitions include The Other End of the Line, curated by Ian Berry and artist, Francis Cape. High Line Art, New York, NY and Measured Variations (Richard Garrison and Tina Seligman), The Arts Center Gallery, The Saratoga County Arts Council, Saratoga, NY. Garrison was awarded an MFA from Cornell University in 1999. His drawings are included in the White Column file registry, NYC. Garrison lives and works in Delmar, NY.
St Louis artist Martin Brief makes text-based works in ink on paper. Though the drawings bring to mind ancient scrolls, they are thoroughly contemporary in subject matter. Brief is showing works from his Truisms, and Art Forum series. A touch of satire, a touch of humor, and a touch of reality make these conceptual works resonate. Brief was awarded his MFA from Southern Illinois University at Carbondale. He is a 2010 recipient of a Great Rivers Biennial artist grant from the Contemporary Art Museum in St. Louis, MO.
Molly Heron, a New York City based artist, will show colorful gouache works from her line drawing series. Influenced by years of yoga practice and breathing exercises, her work is a study in light, color, line and edge. Molly is a recipient of the 2010 & 2009 Merit Scholarship from Vermont College of Fine Art. Her work is included in the Kentler Flatfiles, in the Kentler Gallery, Brooklyn, NY 
and has traveled nationally in several exhibitions through this program.
new talent 2010 opens Saturday, November 20 and runs through December 18, 2010. The artists will be present at a reception on Saturday, November 20 from 4 - 6:00 P.M. PLEASE NOTE: The gallery will be closed for the Thanksgiving holiday Thursday, November 25 and Friday, November 26. Regular gallery hours are Wednesday through Saturday 12 - 5:30, other days by appointment. For additional information 215.592.7752 or email mail@galleryjoe.com. Also visit the website at www.galleryjoe.com .
new talent 2010
Molly Heron
Richard Garrison
Martin Brief
20 Nov - 18 Dec 2010