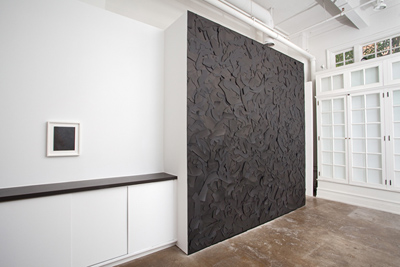 September 25 - November 13, 2010
Light
FOR IMMEDIATELY RELEASE
September 7, 2010
ASTRID BOWLBY - LIGHT AT GALLERY JOE
Philadelphia, PA –  Gallery Joe is pleased to open the season with a show of drawings by Astrid Bowlby. Light, Bowlby's fourth solo show at the gallery, opens September 25 and runs thorough November 13, 2010. There will be a reception for the artist on Saturday, September 25 from 5 -7 pm.
For those familiar with Bowlby's densely drawn black ink drawings, the name of the exhibition, Light, may seem a curious choice. However, Bowlby says that her work has always been about the interplay of light and dark and the subtle shifts created through the density of the ink on the paper.
In an essay written for this exhibition Britta Konau states-
 
…Depending on how many layers of lines she applies to a piece, visual interest can shift from line to overall effect and tone. …Random accumulations of ink appear and seem to demand from us to recognize shapes in them, clouds, fog, concretions seen in nature. Bowlby has in fact been inspired by certain natural light conditions such as moonlight breaking through tangles of branches and leaves…
 
For Light, Bowlby has considered the entire gallery as a site to study the ratio of dark to light. One wall 10 x 10 feet supports "Thicket" an installation consisting of hundreds of ink drawings on cut paper. The limb-like forms cover the surface of the wall to create a huge textured black drawing. Four framed pieces complete the installation in the Front Gallery. In the Vault, Bowlby has meticulously prepared the surfaces of the walls in order to install 5 unframed drawings. Each work 11 x 8 1⁄2 inches is composed of 9 densely drawn layers of black ink. Loosely titled  "A certain density", Bowlby has completed over 20 drawings in this series since she began making them in 1999.
Bowlby's recent exhibitions include On the Mark: Contemporary Works on Paper, The Baltimore Museum of Art, This Place is Ours! Recent Acquisitions at the Academy, and Selections from C.R. Ettinger Studio, 2000-2010, at The Pennsylvania Academy of the Fine Arts, and Recent Acquisitions: Prints and Drawings from Dürer to Doig, Philadelphia Museum of Art. Bowlby is a recipient of a Pew Fellowship in the Arts for works on paper and four Pennsylvania Council on the Arts fellowships. In 2008, she was a beneficiary of the Marie Walsh Sharpe Art Foundation Space Program in New York. Running concurrently with Light is Snag, a sculptural installation at the James A. Michener Art Museum, Doylestown, PA. Astrid Bowlby lives and works in Philadelphia.
 
Light opens Saturday, September 25 and runs through November 13, 2010. There is a reception for the artist on Saturday, September 25 from 5-7 pm. Regular gallery hours are Wednesday through Saturday 12 – 5:30 and other days by appointment. For additional, information call 215.592.7752, mail@galleryjoe.com or visit our website at www.galleryjoe.com.
Light
25 Sep - 13 Nov 2010