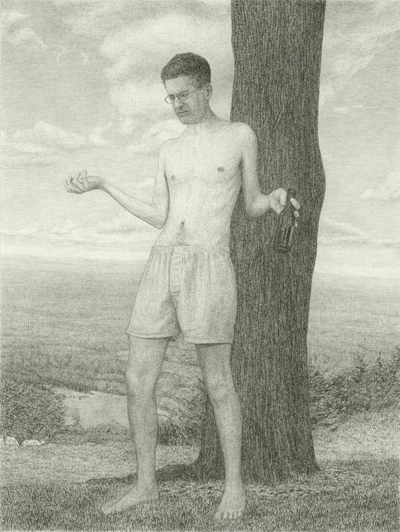 May 07 - July 10, 2010
It Fills Us. We Arrange It.
FOR IMMEDIATE RELEASE
April 20, 2010
Rob Matthews fills us at Gallery Joe
Philadelphia, PA. Gallery Joe is pleased to present Rob Matthews' third solo exhibition at the gallery, It fills us. We arrange it. opens May 7 and runs through June 26, 2010. Matthews will show 11 graphite drawings and 15 ink and chalk drawings. Works range in size from 10 x 7 to 25 x 21 inches.
It fills us. We arrange it. It breaks down. We rearrange it, then break down ourselves. from "The Eighth Elegy" by Rainer Rilke.
"We attempt to organize and contain nature to experience it on our terms but in the end we lose control and succumb to our own end." - Rob Matthews
In his new work Matthews delves into man's interaction with his natural surroundings. Landscape is clearly the dominant force here, man a bit player with a fleeting part. These intimate drawings, most 10 x 8 inches, of intense graphite work are full of symbolism and iconographic imagery, a snake, a mound of salt, or a carefully placed skull reflecting, as in Matthews' past shows, his passion for the work of Albrecht Durer, Hugo van der Goes, and Giotto.
"The Devil's Pool" #s 1& 2, two densely worked landscapes show sections of the Wissahickon Creek. Matthews has removed a bridge to present what appears to be a pristine scene. These compositions reveal little trace of a human presence, yet are unsettling within the context of the other landscapes. Fresh death is present in a large drawing of Fairmount Park showing dozens of recently killed bats nailed to a tree, evidence of a bat hunt the night before. Scattered beer cans in a companion drawing hint at other activities leading up to the hunt.
In the 15 ink and chalk drawings we see a more informal side of Matthews, "…a notebook on display". Though dark in tone, there is a lightheartedness to these works, particularly the series called "piles"; piles of beer bottles, mason jars, or pots and pans. Matthews' says, "The ink drawings … follow new paths that emerge from investigating symbols, objects or concepts."
Recent exhibitions include Casual Male, Sherman Gallery, Boston University, Boston, MA, Kindred, Daniel Cooney Fine Arts, New York, NY, Beautiful Human, Haverford College, and Philadelphia Story opening this month at Woodmere Art Museum. Knoxville Girl, Matthews' last solo show at Gallery Joe traveled to two additional venues, Anderson Gallery, Virginia Commonwealth University, Richmond, VA and Moody Gallery, University of Alabama, Tuscaloosa.
Matthews is a recipient of a 2009 Pew Fellowship in the Arts and Pennsylvania Council on the Arts Grants in 2004 and 2008. His drawings are in the collections of the Philadelphia Museum of Art, Pennsylvania Academy of the Fine Arts, North Carolina Museum of Art in Raleigh and deYoung Museum of Art in San Francisco, CA. Matthews was born and raised in Wilson, NC. He earned a BA from the University of Tennessee-Knoxville and an MFA from Virginia Commonwealth University. He lives and works in Philadelphia.
It fills us. We arrange it. opens on May 7 and runs through June 26, 2010. There is a reception for the artist on First Friday, May 7, 6:30 – 8:30. Regular gallery hours are Wednesday through Saturday 12 – 5:30 and other days by appointment. For additional information contact the gallery at 215.592.7752, mail@galleryjoe.com or www.galleryjoe.com.
It Fills Us. We Arrange It.
07 May - 10 Jul 2010