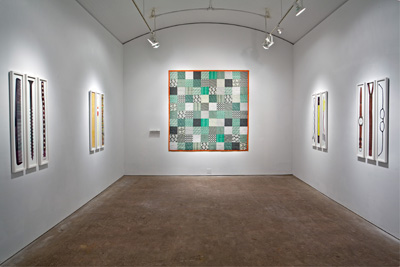 March 13 - April 24, 2010
Big Ditty – Shelley Spector
FOR IMMEDIATE RELEASE
March 8, 2010
SHELLEY SPECTOR'S BIG DITTY OPENS SATURDAY AT GALLERY JOE
Philadelphia, PA – Gallery Joe is pleased to announce "Big Ditty" a solo show by Shelley Spector opening Saturday, March 13 and running through April 24, 2010.
"Big Ditty" is one in series of exhibitions at Gallery Joe curated to run concurrently with Philagrafika 2010 (philagrafika2010.org) a citywide event celebrating print-making. "Big Ditty", will be presented in the Vault Gallery and runs simultaneously with "appropriate manipulate duplicate".
Of her work Spector states:
My work acts as a magnifying glass for the familiar. Most recently I have used digital prints … to look at everyday objects, like television remotes, matches, dollar bills and pencils. I pay homage to these unsung heroes, things we cannot live without, that tend to be the visual equivalent of white noise.
… Through the process of image documentation and manipulation, I record and create changes in meaning, appearance, and context, which enables me a way to both unravel and redefine it. Individually, they are a forced study of the mundane, things easily overlooked in a world that loves big, fantastic and new.
Spector lives and works in Philadelphia, Her prints are in the collections of the Philadelphia Museum of Art, the Pennsylvania Academy of the Fine Arts, and the Free Library of Philadelphia. She is a recipient of the Pennsylvania Council on the Arts awards, 1999, 2000 and the Independence Foundation Fellowship in the Arts, 2004.
There will be an opening reception for the artist Saturay, March 13, 5 – 7:00 pm. Regular gallery hours are Wednesday through Saturday 12 - 5:30, other days by appointment. For additional information 215.592.7752 mail@galleryjoe.com or www.galleryjoe.com
Big Ditty – Shelley Spector
13 Mar - 24 Apr 2010