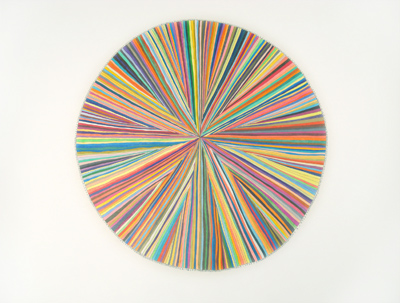 October 02 - November 21, 2009
Formulation: Xylor Jane, Serge Onnen, Lynne Woods Turner, Will Yackulic
FOR IMMEDIATE RELEASE
September 15, 20099
Formulation – A Group Show of Drawings and Animations
Gallery Joe is pleased to announce an exhibition of drawings by Xylor Jane, Lynne Woods Turner, and Will Yackulic with animations and drawings by Serge Onnen. Formulation opens Friday, October 2 and continues through November 21, 2009.
Formulation gathers together a group of artists who share a keen appreciation of form and geometric structure in their work. For Xylor Jane, numbers are paramount, while Will Yackulic develops forms composed of triangles suggestive of geodesic domes. Lynne Woods Turner explores pure geometry whereas Onnen's raw edged drawing animations stimulate questions about social issues .
Yackulic uses a typewriter, watercolor, India Ink and gouache in his drawings to create mysterious otherworldly landscapes. His newest series incorporate silver leaf, screen printing, and ink jet prints of aluminum foil. In addition, tiny burns holes are sprinkled throughout a few of the works, conjuring thoughts of stardust burns left from some distant galaxy.
Turner writes, "Off and on over the years I have worked with magic squares as a visual problem. The form lends itself to the contemplation of balance and the visual means of definition categorization, and value. " With the most elemental tool, a sharp pencil, Turner creates clear and straightforward forms gracefully inviting the viewer to join her in her exploration.
Dutch artist, Serge Onnen shows a series of hand drawn animations depicting an almost "violent consumerism" (Leigh Anne Miller, Art in Ameirca, 2006). Hands repeatedly giving and receiving money or undefined objects over and over again reinforces man's insatiable appetite in a consumer-driven society. Onnen also lives and works in Amsterdam, Berlin, and New York. He is currently participating in "Double Dutch" an exhibition celebrating the Quadricentennial of the Dutch discovery and settlement of the Hudson River at the Hudson Valley Center for Contemporary Arts in upstate New York.
"Xylor Jane shares with many painters a sense of touch, color, and craft, but she has something else: a private, intuitive mathematics in which prime numbers, calendars, and the passage of time figure large. ,,The stunning variety and handmade imperfections of Ms. Janes art reflect its autobiographical nature. …" (Roberta Smith, New York Times, Mar. 09) Jane is showing four drawings including a large circular calendar, "366 Leap year Calendar", drawn in randomly selected brilliant colored pencils. A former resident of Philadelphia, Jane currently lives and works in Holyoke, MA.
Formulation opens Friday, October 2 and runs through November 21, 2009. The gallery will be open for First Friday, October 2 from 6 -8 pm. Regular gallery hours are Wednesday through Saturday 12 - 5:30, other days by appointment. For additional information 215.592.7752 or email mail@galleryjoe.com.
Formulation: Xylor Jane, Serge Onnen, Lynne Woods Turner, Will Yackulic
Will Yackulic
Serge Onnen
02 Oct - 21 Nov 2009