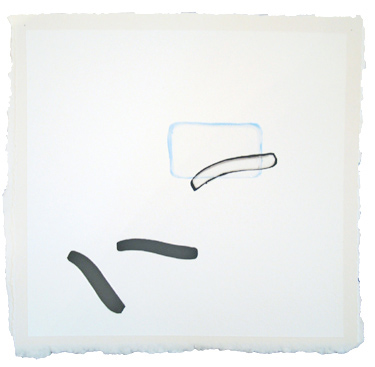 May 01 - June 27, 2009
animations
FOR IMMEDIATE RELEASE
April 11, 2009
SHARON LOUDEN'S ANIMATIONS IN THE VAULT AT GALLERY JOE
Gallery Joe is pleased to present the first solo show in Philadelphia of Philadelphia native, Sharon Louden. animations opens on Friday, May 1 in the Vault Gallery and runs through June 27, 2009.
In this exhibition, Louden will show a series of videos completed over the past three years. The images in the videos are scans of her drawings digitally animated to move and float, creating a drawing in motion. In addition to the videos, she will show a group of the actual drawings from the animation, "The Bridge". Small works, 8 to 10 inches square, the drawings are watercolor and gel medium on paper.
Sharon Louden makes drawings, paintings, sculpture, installation and video. The unifying element in all of her work is the line, a simple elemental mark. Contained within each mark is a gesture suggesting the most basic of human emotions such as joy, sadness, peace, or anxiety.
It is the dynamic aspects of animation that allowed Louden to realize movement in her work, expanding her still images into the third and fourth dimensions. Until then, motion had only been present implicitly in her spontaneous-looking marks on paper and canvas. In actuality, her lines are carefully considered and positioned, becoming like characters in a play, endowed with human traits like emotion and personality.
-Andrea Inselmann. Cornell University, Johnson Museum of Art
Louden's recent exhibitions include solo shows at Birmingham Museum of Art, Birmingham, AL and Weatherspoon Art Museum, The University of North Carolina at Greensboro, Greensboro, and NC. Her work is included in the collections of the Arkansas Arts Center, Little Rock, AK, Birmingham Museum of Art, Museum of Fine Arts, Houston, TX, National Gallery of Art, Washington, DC, Whitney Museum of American Art, New York, NY, Weatherspoon Art Museum, and Yale University Art Gallery, New Haven, CT among others. Louden was awarded her M.F.A., from the Yale University School of Art and her B.F.A. from the School of the Art Institute of Chicago. Born and raised in Philadelphia, Sharon Louden lives and works in New York.
animations opens on May 1 and runs through June 27, 2009. The artist will be present at a reception on First Friday, May 1 from 6:30 – 8:30 PM. This show runs concurrently with Shift a show of drawings by Nicole Phungrasamee Fein in the Front Gallery. Regular gallery hours are Wednesday through Saturday 12 - 5:30, other days by appointment. For additional information contact Becky Kerlin, 215.592.7752, FAX 215.238.6923, mail@galleryjoe.com or www.galleryjoe.com
animations
01 May - 27 Jun 2009