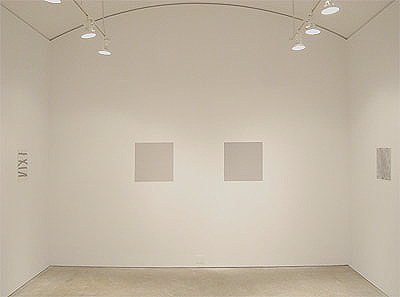 March 06 - April 25, 2009
Ode to tape
FOR IMMEDIATE RELEASE
February 23, 2009
Kristin Holder – Ode to tape at Gallery Joe
Gallery Joe is pleased to announce a solo show of drawings by Washington, DC artist Kristin Holder. Ode to tape opens in the Vault Gallery March 6 and runs through April 25, 2009. This is Holder's first exhibition in Philadelphia.
In her statement about the show Holder writes, "The show consists of 10 to 12 unframed charcoal or graphite drawings taped directly to the walls. The tape mediates the space between the drawing and the wall and differentiates phases of the drawing process…from causal to trivial to clumsy or precise. The sizes vary from 10 x 10 to 22 x 22 inches. Individually, the drawings are a tribute to other artists and the devices they have developed to reconcile reality, as we know it to reality as we see it. For me, drawing is thinking and is in itself a means by which to resolve that duality."
Holder has attended residencies at the The Edward F. Albee Foundation, Montauk, NY and Millay Colony for the Arts, Austerlitz, NY. She has received grants from the Independent Artist Fellowship, DCCAH/NEA and The Pollack Krasner Foundation. Holder received her BA in painting with a minor in chemistry from the University of Washington, Seattle, WA and her MFA in painting form the American University, Washington, DC. She lives and works in Washington, DC.
Ode to tape opens in the Vault Gallery on March 6 and continues through April 25. There will be a reception for the artist on First Friday, March 6, from 6:30 – 8:30 pm. For additional information 215.592.7752, mail@galleryjoe.com, www.galleryjoe.com
Ode to tape
06 Mar - 25 Apr 2009