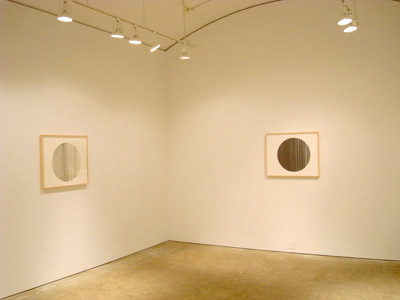 January 10 - February 28, 2009
Oculus
FOR IMMEDIATE RELEASE
December 22, 2008
SIMON FROST – OCULUS AT GALLERY JOE
Philadelphia, PA – Gallery Joe is pleased to present an exhibition of drawings by Simon Frost. Oculus opens in the Vault Gallery on Saturday, January 10 and continues through February 28, 2009. Oculus runs concurrently with an exhibition of works on paper by Sabine Friesicke in the Front Gallery.
Oculus is Simon Frost's first solo show in Philadelphia. Included in the exhibition are 7 circular forms rendered in either silverpoint or graphite on paper. Each circle is composed of hundreds of vertical lines running from edge to edge, with minute variations in thickness and tone. Frost uses two types of silver point, fine silver and sterling, creating extremely subtle changes in color that will soften over time. The uniform paper size (ca. 23 x 28 inches) as well as the diameter of the circles (ca. 20 inches) reinforces Frost's long-standing interest in repetition and mark-making. Those familiar with Frost's drawings will note that while the gentle touch of his hand remains, the lines are straight and long.
In a recent interview with John Yau, Frost remarked about his drawings: "…It's the tension that interests me, particularly when I've worked with some of these recent drawings, and in some of the drawings in the past where I've made a drawing that takes more than a year, and I'm not erasing anything. I'm just accumulating marks. That's what it's about." (The Brooklyn Rail, May, 2008).
This acceptance of the accidental within constrained conditions seems to distinguish Frost from customary conventions of Minimalism.
"Unlike the hard-edged Minimalists, he deliberately breaks lines, incorporates fissures in color blocks, distorts shapes so that they look constrained by the frames, or simply allows webbed patterns to give out. These apparent imperfections may also be a species of artistic modesty. Frost does not compete with orthodox Minimalism."

Alfred Mac Adam (ARTnews, June, 2008)
Simon Frost was born and raised in Woodham, England. He currently lives and works in Brooklyn, NY. He studied at West Surrey College of Art and Design, Farnham, England, Bath Academy of Art, London, the Fine Arts Program, Cooper Union, New York and Chelsea School of Art, London. Recent shows include solo exhibitions at Peter Blum in New York and Xavier Hufkens Gallery in Brussels Belgium.
Oculus opens on Saturday, January 10 and runs through Saturday, February 28, 2009. The artist will be present at an opening reception on Saturday, January 10 from 4 to 6 PM. Regular gallery hours are Wednesday through Saturday 12 - 5:30, other days by appointment. For additional information, visit our website at www.galleryjoe.com or contact Becky Kerlin, 215.592.7752.
Oculus
10 Jan - 28 Feb 2009