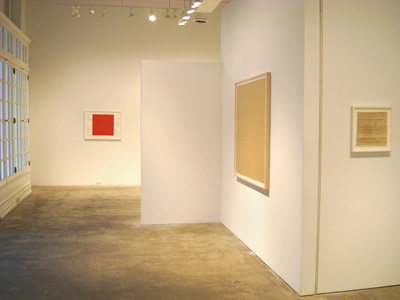 January 10 - February 28, 2009
Gold
FOR IMMEDIATE RELEASE
December 24, 2008
SABINE FRIESICKE: GOLD AT GALLERY JOE
Philadelphia, PA – Gallery Joe is pleased to present an exhibition of works on paper by Sabine Friesicke. Gold, opens in the Front Gallery on Saturday, January 10 and continues through February 28, 2009. Gold runs concurrently with an exhibition of drawings by Simon Frost in the Vault Gallery.
Gold is Friesicke's first solo show with the gallery. All of the works in the exhibition are gouache on paper ranging in size from 22 x 30 to 45 x 45 inches. As the title suggests, these works are explorations of the color gold, and the interplay between rich warm reds to cooler blues, and blacks. The grid is the foundation for Friesicke's drawings. Using a brush Friesicke works from left to right and top to bottom. The vertical lines in the larger works are the result of paint dripping from the top to the bottom of the paper. In both cases, a diaphanous veil is created obscuring what is beneath. What is beneath is often a layer of gold reflecting light up to the surface, urging the viewer to peer into the work.
"…Friesicke's work is related to cultic and magical paintings. These paintings use materials like gold or precious pigments thus attributing meaning to themselves while also referring to the Logos: that which is unpicturable shall be pictured and is therefore conceivable, if not perceptible."

—- Stefan Weppelmann (from essay "Magic of the Line, Sabine Friesicke's New Work" catalogue for OST WEST, Kunstbüroberlin, Berlin, 2008)
Born in Hamburg, Germany, Friesicke currently lives and works in New York City. She studied at the Freie Kunst at HfBk Hamburg (Academy for Visual Arts) in the 80's. Prior to that she studied at the Liberal Academy of Arts, Hamburg, founded by Joseph Beuys and his students.
Recent solo exhibitions include OST WEST, Kunstbüroberlin, Berlin, Germany and Robert Steele Gallery in NY. In 2006 her work was included in the group exhibition, Gridlock at Gallery Joe. Friesicke's work is in the collections of the Davis Museum, Wellesley College, Wellesley, MA, Birmingham Museum of Art, Birmingham, AL, Hood Museum of Art, Dartmouth College, Hanover, NH, Weatherspoon Art Museum, University of North Carolina at Greensboro, Greensboro, NC, UCLA Hammer Museum, Los Angeles, CA.
Gold opens on Saturday, January 10 and runs through Saturday, February 28, 2009. The artist will be present at an opening reception on Saturday, January 10 from 4 to 6 PM. Regular gallery hours are Wednesday through Saturday 12 - 5:30, other days by appointment. For additional information, visit our website at www.galleryjoe.com or contact Becky Kerlin, 215.592.7752.
Gold
10 Jan - 28 Feb 2009