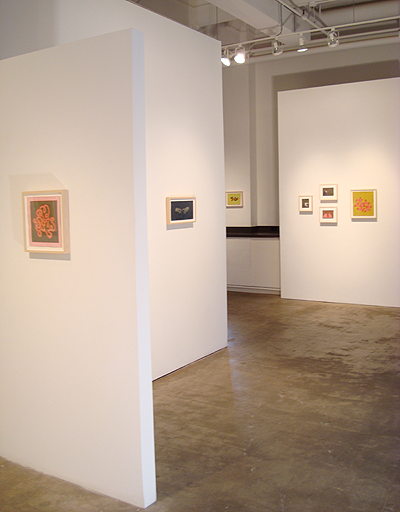 September 13 - October 25, 2008
Lunchmeat on my Pantsuit
FOR IMMEDIATE RELEASE
August 20, 2008
ALEXANDER GORLIZKI – DRAWINGS AT GALLERY JOE
Philadelphia, PA – Gallery Joe wishes to announce an exhibition of drawings by Alexander Gorlizki. Lunchmeat on my Pantsuit opens in the Front Gallery on Saturday, September 13 and continues through October 25, 2008. This is Gorlizki's first show at Gallery Joe and his debut exhibition in Philadelphia.
The drawings in this exhibition originate with Gorlizki's life-long passion for Indian Miniature paintings. The desire to incorporate the ancient technique into his own visual language has led to a unique cross-cultural dialogue. In the early 1990's Gorlizki opened a studio in Jaipur, India with Riyaz Uddin, a master miniaturist painter. Since the opening, the studio has grown to employ a number of other highly skilled craftspeople trained in this 600 year-old tradition. Gorlizki draws quirky forms, patterns, and compositions that are then, at his direction, meticulously painted with a single-hair-tipped brush in luscious stone-ground pigments and gold leaf. Because Gorlizki spends part of the year working in Jaipur and the rest in New York, the drawings often travel back and forth between the continents as elements are added and adapted over an extended period, sometimes taking years to complete.
Gorlizki will show 20 small drawings using a variety of media, including ink, pigments, and graphite. All are small works on paper, varying in size from 4 x 6 to 18 x 12 inches. Narrative subjects intermingle the everyday with the mythical, abstract, and absurd. Some of the imagery brings to mind floppy stuffed dolls, or jeweled rope-like patterns suggesting Brice Marden paintings. Other drawings reveal the eyes and mouths of movie stars peering through extraordinarily dense patterns.
Gorlizki works with confidence in a variety of disciplines including sculpture, film and drawing. He delights in collaborating with a variety of craftsmen and artisans, including marble carvers, shoemakers, knitters, embroiderers, filmmakers and musicians. A graduate of the Slade School in London, he received his MFA in sculpture in 1994 and was awarded the Duveen Travel Award for research in Pakistan, China & Tibet in 1993. Recent exhibitions include solo shows in Los Angeles at Daniel Weinberg Gallery, in Edinburgh Scotland at Ingleby Gallery, and in Cologne, Germany where he is represented by Kudlek van der Grinten Gallery. Born in London, UK, Gorlizki currently lives and works in New York maintaining a studio in Manhattan at PS 122 where he was awarded an artist's residency in 2003/4.
Lunchmeat on my Pantsuit opens Saturday, September 13, and runs through October 25, 2008. The artist will be present at an opening reception on Saturday, September 13th from 4 – 6:P.M. Regular gallery hours are Wednesday through Saturday 12 - 5:30, other days by appointment. For additional information 215.592.7752 or email mail@galleryjoe.com. Also visit the website at www.galleryjoe.com.
Lunchmeat on my Pantsuit
13 Sep - 25 Oct 2008