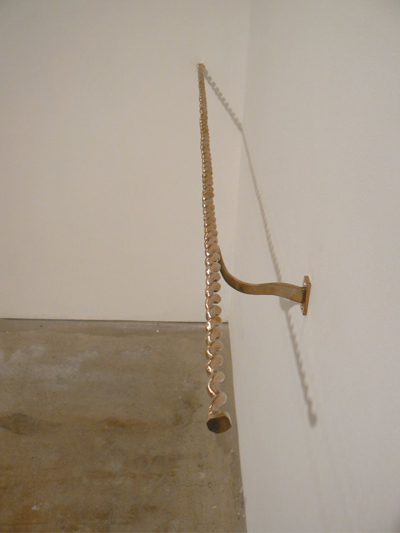 September 13 - October 25, 2008
loud,square.fire.load.
FOR IMMEDIATE RELEASE
August 20, 2008
KATE MORAN – SCULPTURE IN THE VAULT AT GALLERY JOE
Philadelphia, PA – Gallery Joe is pleased to announce an exhibition of sculpture and letterpress works by Philadelphia artist Kate Moran. loud,square.fire.load. opens in the Vault Gallery on Saturday, September 13 and runs through October 25, 2008.
Moran's new works continue her fascination with familiar objects and how their psychological impact is transformed through the skillful use of scale, and repetition. The exhibition is composed of several new sculptures and limited edition letterpress prints. An extremely delicate 53" long hand carved spindle only ¾ of an inch wide recalls Brancusi's "Endless Column". Also, a carved banister of the same dimensions is cast in bronze and installed in the corner of the gallery. Traditionally a means of support, the function of both the spindle and the banister is brought into question by investing them with many fresh associations.
While discussing the title of the show loud,square.fire.load. Moran stated that she wanted each word to stand alone while at the same time implying an unending non-specific narrative or continuum. A keen interest in words and etymology is one of several threads that have been evident in her work throughout her career.
Her interest in language has deepened since 2007 when Moran's daughter Sofia was diagnosed with bilateral hearing loss. Many of the works in the show are inspired by Moran's personal exploration into Sofia's speech and language development. The letterpress pieces are a transcription of Sofia's acquisition of specific words, how she places them next to one another, and how she begins to connect them and understand their meaning.
For excellence in photography Moran was awarded a PEW fellowship in the Arts in 1994, and a Leeway Foundation Grant in 1996. Pennsylvania Council on the Arts awards include: SAS Grant (2003), Works on Paper (2000), Visual Arts (1992/3) and Interdisciplinary Arts (1995/6). She completed residencies at the MacDowell Colony (1996) and John Michael Kohler Arts/Industry (1997). Her work has been exhibited widely in Philadelphia as well as nationally and has been acquired by the Philadelphia Museum of Art, Pennsylvania Academy of the Fine Arts, The State Museum of Pennsylvania, The Woodmere Art Museum, and The New Orleans Museum of Art among others.
Kate Moran received her MFA from the University of North Carolina in Chapel Hill in 1992. In 1988 she completed the certificate program at the Pennsylvania Academy of the Fine Arts where she now teaches. Moran lives and works in Philadelphia.
loud,square.fire.load. opens Saturday, September 13, and runs through Saturday, October 25, 2008. The artist will be present at an opening reception on Saturday, September 13th from 4 – 6:P.M. Regular gallery hours are Wednesday through Saturday 12 - 5:30, other days by appointment. For additional information 215.592.7752 or email mail@galleryjoe.com. Also visit the website at www.galleryjoe.com
loud,square.fire.load.
13 Sep - 25 Oct 2008