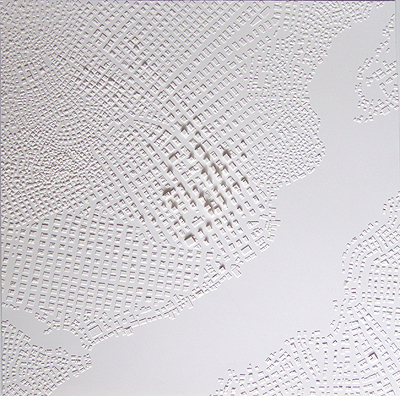 July 03 - July 26, 2008
sense of place
FOR IMMEDIATE RELEASE
June 20, 2008
sense of place
Philadelphia, PA—Gallery Joe will open sense of place, this year's summer group show curated by Sarah Holloran, on Thursday, July 3. There will be an opening reception on Thursday evening from 6—8 pm, and the show will continue through July 26.
The summer exhibit will feature nine artists, some new to the gallery for this show, who all capture a "sense of place" in their work through various ideas and techniques. Each artist explores worlds that are both familiar and fantastical—even a few that blur the lines.
Nicholas Santore gives viewers a glimpse of the past by recalling Soviet era stores and homes through his vibrant colors, grids, patterns and text. David Clarkson takes us through space as his ink drawings reveal the landscapes of Mars. Stephanie Beck uses her mark to create subtle drawings that suggest architectural city plans, while Hiro Sakaguchi shows us the landscape of Japan intertwined with his own personal memories and experiences.
Artists exhibiting include:
Stephanie Beck
Isadora Bullock
David Clarkson
Lynne Clibanoff
Sharka Hyland
Rob Matthews
Hiro Sakaguchi
Nicholas Santore
Patricia Smith
sense of place will run from July 3 – July 26, 2008. The gallery will be closed in August.
For additional information or to schedule an appointment, contact Sarah Holloran, 215.592.7752, FAX 215.238.6923, or email mail@galleryjoe.com.
sense of place
Nicholas Santore
Isadora Bullock
Hiro Sakaguchi
David Clarkson
Patricia Smith
Stephanie Beck
03 Jul - 26 Jul 2008