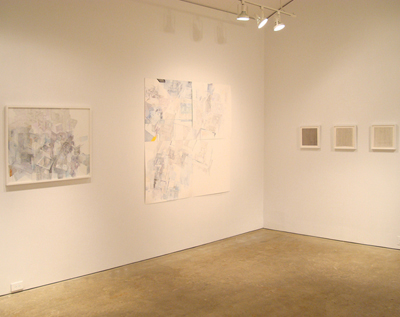 May 02 - June 28, 2008
Line and Time and Space: Isabel Albrecht, Sharka Hyland, Bruce Pollock, Sebastian Rug
FOR IMMEDIATE RELEASE
April 10, 2008
Line and Time and Space in the Vault at Gallery Joe
Philadelphia, PA. Gallery Joe is pleased to announce a group show of drawings, Line and Time and Space featuring the work of four artists: Isabel Albrecht, Sharka Hyland, Bruce Pollock and Sebastian Rug. The show opens in the Vault Gallery on First Friday, May 2 and continues through June 28, 2008.
As the name implies, Line and Time and Space gathers a group of artists who explore these themes in their drawings. Three of the artists, Sharka Hyland, Isabel Albrecht, and Sebastian Rug are showing at Gallery Joe for the first time.
Central to Isabel Albrecht's small square ink drawings is her use of repetition and subtle tonal shifts. All of the drawings are 10 x 10 inches composed of short parallel vertical lines that create dynamic accidental patterns. Albrecht studied drawing at Camberwell College of Art. and received her Master of Arts from the Royal Academy of Art in London. She lives and works in Frankfurt, Germany.
Sharka Hyland's dense visionary drawings of urban landscapes are suggestive of the ruins of a lost civilization. However, Hyland's imaginary environments are not totally believable with tunnels leading to blank walls and steps going nowhere. The drawings vary in size. Included in the show is one four panel drawing on paper 60 x 62 inches. Hyland lives and works in Philadelphia.
Sebastian Rug lives and works in Leipzig, Germany. He studied painting and graphic arts at the Academy of Fine Arts in Dresden and Academy of Visual Arts in Leipzig. Rug will show five delicate graphite drawings. Each work is composed of minute marks. As the marks accumulate the drawings appear to grow into structures. Placement on the paper is crucial to these works leaving the viewer slightly off balance.
Using one basic building block of the five-sided polygon, Bruce Pollock creates complex webs that suggest infinite universal space. His nature is not the one we see. It is the atomic (or celestial) plane of existence where the infinite mind is at work in a process of discovery without aim, without end. Pollock lives and works in Philadelphia and is affiliated with Fleisher/Ollman Gallery.
Line and Time and Space opens in the Front Gallery on May 2 and runs through June 28, 2008. There is a reception for the artists on First Friday, May 2, 6:30 – 8:30. Regular gallery hours are Wednesday through Saturday 12 – 5:30 and other days by appointment. For additional information contact the gallery at 215.592.7752, FAX 215.238.6923, mail@galleryjoe.com and www.galleryjoe.com.
Line and Time and Space: Isabel Albrecht, Sharka Hyland, Bruce Pollock, Sebastian Rug
Bruce Pollock
Isabel Albrecht
02 May - 28 Jun 2008