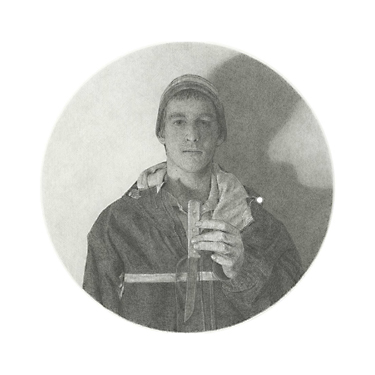 November 02 - December 15, 2007
Knoxville Girl
FOR IMMEDIATE RELEASE
October 12, 2007
Rob Matthews' Knoxville Girl at Gallery Joe
Philadelphia, PA. Gallery Joe is pleased to present Knoxville Girl, a solo show of drawings by Rob Matthews. The show opens November 2 in the Front Gallery and runs through December 15. This exhibition runs concurrently with a show of drawings by Marilyn Holsing in the Vault gallery.
Knoxville Girl details the events that transpired surrounding the murder of a young woman in Knoxville, Tennessee. With precision Matthews deconstructs this tragic event inviting the viewer to witness this tale solemnly, yet imbued with a satirical edge.
Regarding the show, Matthews' states:
The inspiration for the work is far from the final result. This is a murder ballad created with graphite rather than a guitar or a banjo. It's a morality tale similar to the song of which this show borrows the title.
Included are four portraits each representing the parties involved, along with fourteen scenes narrating the events. All characters and scenes are staged and conjured strictly from Matthews' imagination.
Matthews' recent exhibitions include This Place is Ours! Recent Acquisitions at the Academy at The Pennsylvania Academy of the Fine Arts, Recent Acquisitions: Prints and Drawings from Dürer to Doig, Philadelphia Museum of Art, The Philadelphia Art Alliance, Moore College of Art, and Works on Paper 2004 at Arcadia University, in Philadelphia, 181st Annual: An Invitational Exhibition of Contemporary American Art, National Academy, Reconciliation, The Cooper Union, and Adam Baumgold Gallery in New York. Knoxville Girl is Matthews' second solo show at Gallery Joe.
Matthews was born and raised in Wilson, North Carolina. He earned a BA in painting from the University of Tennessee-Knoxville and an MFA from Virginia Commonwealth University in 1997. He lives and works in Philadelphia.
Knoxville Girl opens in the Front Gallery on November 2 and runs through December 15, 2007. There is a reception for the artist on First Friday, November 2, 6:30 – 8:30. Regular gallery hours are Wednesday through Saturday 12 – 5:30 and other days by appointment. For additional information contact the gallery at 215.592.7752, FAX 215.238.6923, mail@galleryjoe.com and www.galleryjoe.com.
Knoxville Girl
02 Nov - 15 Dec 2007