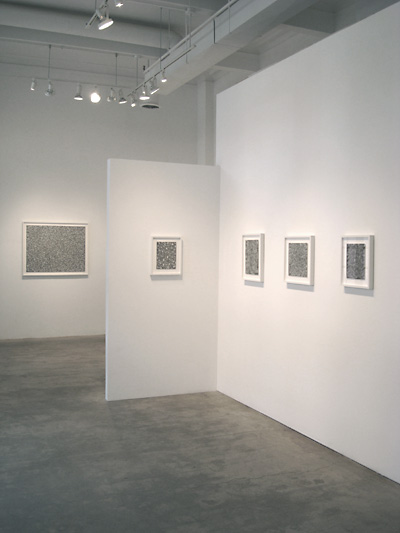 September 15 - October 27, 2007
A certain density
For Immediate Release
August 30, 2007
Astrid Bowlby - A certain density at Gallery Joe
Philadelphia, PA - Gallery Joe is pleased to announce a show of ink drawings by Astrid Bowlby. A certain density opens on Saturday, September 15 and continues through October 27, 2007.
Bowlby's third solo show at Gallery Joe features 18 pen and ink drawings, ranging in size from 11 x 8.5 to 30 x 40 inches, her largest works to date.
In the Front Gallery Bowlby introduces a new series of drawings called "Dark Garden", suggesting a primordial soup, hovering between a fecund sea floor and a mysterious midnight garden. In addition, she shows new variations on several familiar series, including "Strange Weather" and "Variegated Lace".
In the Vault Gallery is a group of seven drawings from "a certain density," a series of densely drawn black rectangular grids Bowlby began developing in 1999. Line upon line, layer upon layer she methodically applies the ink to the paper creating rich surfaces of extreme density. While it remains apparent in some of the drawings, in others the grid appears to fade into a solid black field.
Bowlby is a recipient of a Pew Fellowship in the Arts for works on paper, 2005 and four Pennsylvania Council on the Arts fellowships, 2000, 2002, 2004, and 2007. Recent exhibitions include: This Place is Ours! Recent Acquisitions at the Academy, The Pennsylvania Academy of the Fine Arts, Recent Acquisitions: Prints and Drawings from Dürer to Doig, Philadelphia Museum of Art, Philadelphia, PA, 2007 Portland Museum of Art Biennial, Portland Museum of Art, Portland, ME. Bowlby lives and works in Philadelphia.
A certain density opens in both galleries Saturday, September 15 and runs through October 27, 2007. There is a reception from the artist on Saturday, afternoon, September 15 from 4-6 pm. Regular gallery hours are Wednesday through Saturday 12 – 5:30 and other days by appointment. For a additional, information contact the gallery at 215.592.7752, FAX 215.238l.1616, mail@galleryjoe.com and www.galleryjoe.com.
A certain density
15 Sep - 27 Oct 2007