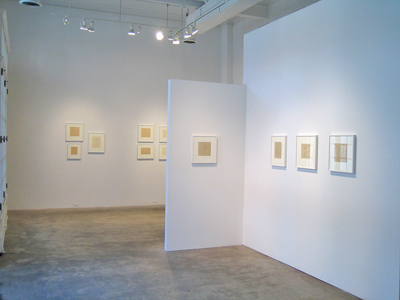 March 10 - April 28, 2007
Drawings
FOR IMMEDIATE RELEASE
February 21, 2007
LYNNE WOODS TURNER - DRAWINGS AT GALLERY JOE
Philadelphia, PA – Gallery Joe is pleased to announce a show of drawings by Lynne Woods Turner. Her third solo show at Gallery Joe, "Drawings" opens in both galleries on Saturday, March 10 and continues through April 28, 2007. Turner will speak about her work at 4:00 at the opening reception on Saturday, March 10. A catalogue with an essay by Susan Rosenberg will accompany this exhibition and will be available for purchase.
Drawing has long been cherished for its intimacy with the creative idea. Lynne Woods Turner's drawings elevate this intimacy to a structural and graphic principle. Minimal and ephemeral in form, her work delivers the complex elegance of a mandala, not simplicity for its own sake. Drawing becomes absolute sensitization to the behavior of paper and graphite and the cultivation of geometry.

Susan Rosenberg, 2007
In a new series of drawings in the Front gallery, Turner departs from the all over format that she had been devoted to for the past few years. The new works are studies of the most elemental forms, a simple line, a curve or a circle, gently reconfigured.
In the Vault gallery Turner presents a series of six concentric graphite line drawings. Smaller than her previous concentric works, these intimate pieces balance the contour of the drawing with the paper support. In addition, for the first time, Turner will show a group of preparatory drawings. Diagrammatic in nature, 12 works offer the viewer further insight into the development of Turner's finished works.
Turner's drawings are in numerous public and private collections including the Museum of Modern Art, New York, NY, Fogg Art Museum, Harvard University, Cambridge, MA, Yale University Museum, New Haven, CT, Hood Museum of Art, Dartmouth College, Hanover, NH, University of Iowa Art Museum, Iowa City, IW.
Turner works with Michael Kohn Gallery in Los Angeles, Greg Kucera Gallery in Seattle, Devin Borden Hiram /Butler Gallery in Houston, and Susan Lorence in NY. Her drawings were first exhibited in New York at The Drawing Center in 1996. Turner lives and works in Portland, OR.
"Drawings" opens Saturday, March 10 and runs through April 28, 2007. The artist will speak at 4:00 at an opening reception on Saturday, March 10. The reception is from 4:00 - 6:00 P.M. Regular gallery hours are Wednesday through Saturday 12 - 5:30, other days by appointment. For additional information contact Becky Kerlin, 215.592.7752, FAX 215.238.6923. mail@galleryjoe.com
Drawings
10 Mar - 28 Apr 2007