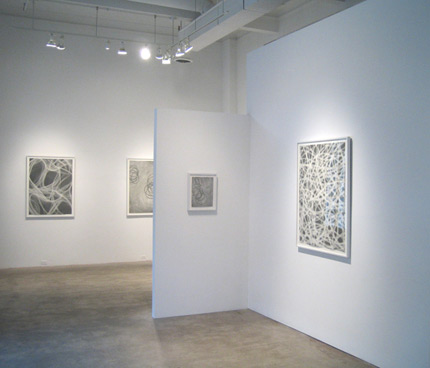 January 05 - February 24, 2007
Drawings
FOR IMMEDIATE RELEASE
December 22, 2006
MARK SHEINKMAN AT GALLERY JOE
Philadelphia, PA – Gallery Joe is pleased to present the first solo show in Philadelphia by Mark Sheinkman. The exhibit opens in the Front Gallery on Friday, January 5 and continues through February 24, 2007. This show runs concurrently with a book of hours a solo exhibition by Annabel Daou in the Vault Gallery.
Sheinkman will show 11 graphite drawings on paper from two related bodies of work. The first series features undulating, almost rhythmic, interpenetrating lines that insinuate spatial depth and movement though varying widths and textures of lines. These soft, sinewy lines float across the surface creating web-like formations.
The next group marks its debut at Gallery Joe. This new series appears to possess more of a solidity or bulbous formation. With a much more dense, even sculptural, linearity Sheinkman achieves a sense of flux, even reverberation, across the surface of the page.
In an essay for Sheinkman's solo show at the Kemper Museum of Contemporary Art in 2004, writer Robert E. Edelman states:
Their lyricism [of his drawings] is reflected in Sheinkman's ability to create a space that is at once apprehensible and enigmatic. Not least of all, the structural soundness of the work is apparent in the inherent logic of its construction.
Gallery Joe began showing Sheinkman's work in 2002. His drawings have been included in several group shows, most recently last spring in Gridlock. In New York, he is represented by Von Lintel Gallery. Sheinkman has also completed three suites of prints published by Pace Prints in NY. Recent group exhibitions include shows at Whitespace Gallery, Atlanta, Fruehsorge Galerie, Berlin, Ambrosino Gallery in Miami, and Lennon Weinberg Gallery, New York.
His work is found is numerous public and private collections including the Museum of Modern Art, NY, the Metropolitan Museum of Art, NY, the National Gallery of Art, Washington, DC, the Museum of Fine Arts in Houston, TX, Yale University Art Gallery, New Haven, CT, Fogg Art Museum at Harvard University, Cambridge, MA, as well as the Bibliotheque Nationale in Paris.
Sheinkman received his B.A. from Princeton University in 1985. He lives and works in New York City.
The show opens on Friday, January 5 and runs through February 24, 2007. The artist will be present at an opening reception on First Friday, January 5 from 6:30-8:30 P.M. This show runs simultaneously with a book of hours by Annabel Daou in the Vault Gallery. Regular gallery hours are Wednesday through Saturday 12 – 5:30, other days by appointment. For additional information contact Becky Kerlin, 215.592.7752, FAX 215.238.6923, mail@galleryjoe.com or www.galleryjoe.com.
Drawings
05 Jan - 24 Feb 2007