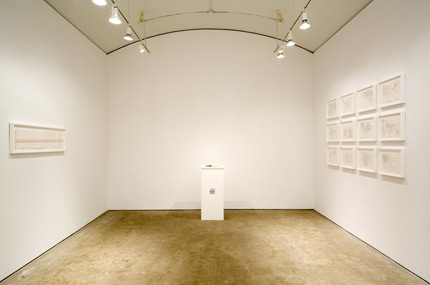 January 05 - February 24, 2007
a book of hours
FOR IMMEDIATE RELEASE
December 22, 2006
Annabel Daou's book of hours in the Vault Gallery at Gallery Joe
Philadelphia, PA – Gallery Joe is pleased to present "a book of hours" by Annabel Daou. The exhibition opens in the Vault Gallery on Friday, January 5 and continues through February 24, 2007. This show runs concurrently with a solo show of new drawings by Mark Sheinkman in the Front Gallery.
"a book of hours" is Daou's second solo show at Gallery Joe. Developing her work from various written sources—poetry, English, and Arabic script —Daou's work continues to reference the blending of cultures through language, history, and politics.
"a book of hours" consists of a 120 page book, a series of drawings and a soundscape. Working together with poet and sound artist, Greta Byrum, Daou has created a site specific exhibition, sensitive to the chapel like qualities of the Vault Gallery.
Daou describes her exhibition as follows.
The book traces the last six months of the artist's life through a sequence of words which repeat from page to page, referencing the rhythm of prayer, of chanting, and of the endless looping of time through the book itself. The drawings represent different hours of the day and night using a sequence of passing minutes and hours to create a visual image of time….While the original medieval books of hours were used to list the appropriate texts for each liturgical hour of the day, they eventually became records of life itself. As they became more highly decorated, they were sought after as works of art. "a book of hours" deals with the incessant oscillation between time and art.
—-December 2006
Daou's recent exhibitions include America, at Josèe Bienvenu Gallery, NY, Under Construction at the Shore Institute of Contemporary Art, Long Branch, NJ and at Gallery Joe in two group shows, Gridlock and Series…
Daou was born and raised in Beirut, Lebanon. She received her B.A. from Barnard College, Columbia University in 1989. Currently, she lives and works in New York City.
"a book of hours" opens on Friday, January 5 and runs through Saturday, February 24, 2007. The artist will be present at an opening reception on First Friday, January 5 from 6:30-8:30 P.M. Regular gallery hours are Wednesday through Saturday 12 – 5:30, other days by appointment. For additional information contact Becky Kerlin, 215.592.7752, FAX 215.238.6923, mail@galleryjoe.com or www.galleryjoe.com.
a book of hours
05 Jan - 24 Feb 2007