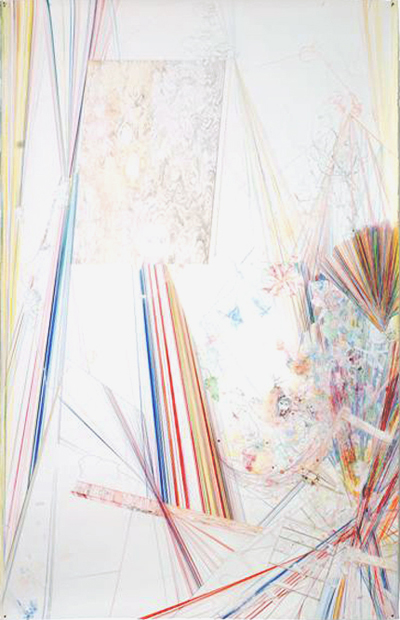 September 16 - October 28, 2006
look out, doopler, doppler, so hum, little gem
FOR IMMEDIATE RELEASE
September 6, 2006
MICHELLE OOSTERBAAN AT GALLERY JOE
Philadelphia, PA – Gallery Joe opens the season this year with a show of drawings by Philadelphia artist Michelle Oosterbaan. look out, doopler, doppler, so hum, little gem is Oosterbaan's first solo show at Gallery Joe. The exhibition opens in the Front Gallery on Saturday, September 16 and continues through October 28, 2006.
Oosterbaan will show seven large drawings, several measuring 70 x 50 inches. All of the drawings are colored pencil and gouache on paper. In addition, a few smaller works will also be available.
Of her drawings Oosterbaan writes,
"The scale of the largest drawings suggests that of walls, their accumulations of colored line and passages of gouache causing them to read atmospherically from a distance. At close range, the layered, hand-drawn imagery comes into view at different speeds. …

Requiring time to absorb, these detailed depictions slow down the process of looking. With their multiple perspectives and shifts in scale, compounded by a lack an apparent hierarchy, each drawing becomes a theatre of multiple spaces…"
We are also pleased to announce that Oosterbaan has been invited to participate in Levity: Spring Selections, 2007 at the Drawing Center in New York. She has exhibited widely in the Philadelphia region, most recently in Works on Paper, 2006 at Arcadia University. Other Philadelphia venues include Nexus, The Abington Arts Center, Temple University Art Gallery, and the Rosenwald-Wolf Gallery. In 2003 Oosterbaan created a solo installation in the Morris Gallery at the Pennsylvania Academy of the Fine Arts. She is the recipient of PA council on the Arts grants for both painting and works on paper as well as two Window of Opportunity Grants form the Leeway Foundation. Oosterbann spent this summer at a residency at the Virginia Center for the Creative Arts. She has also attended residencies at Yadoo, in Saratoga Springs, NY in 2005 and 2003 and the MacDowell Colony, Peterborough, NH in 2004.
look out, doopler, doppler, so hum, little gem, an exhibition of drawings by Michelle Oosterbaan opens on Saturday, September 16 and runs through Saturday, October 28, 2006. The artist will be present at an opening reception on Saturday, September 16 from 4 - 6 P.M. Regular gallery hours are Wednesday through Saturday 12 - 5:30, other days by appointment. For additional information contact Becky Kerlin, 215.592.7752, FAX 215.238.6923, mail@galleryjoe.com or www.galleryjoe.com
look out, doopler, doppler, so hum, little gem
16 Sep - 28 Oct 2006