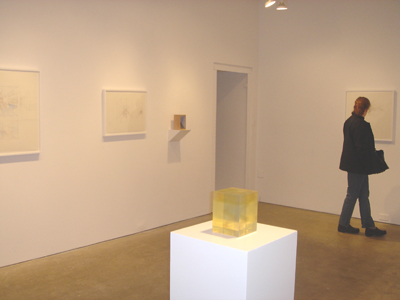 April 22 - June 03, 2006
Drawing Spaces
FOR IMMEDIATE RELEASE
April 5, 2006
Drawing Spaces- Lynne Clibanoff and Cheryl Goldsleger at Gallery Joe
Philadelphia - Gallery Joe announces the opening of Drawing Spaces, an exhibition of drawing and sculpture by Lynne Clibanoff and Cheryl Goldsleger. The exhibition opens April 22 and runs through June 3, 2006. There will be an opening reception for the artists on Saturday, April 22, 4 - 6 P.M.
In Drawings Spaces, Philadelphia artist Lynne Clibanoff will show 5 constructions with their drawings. All are working drawings that she uses to plan and construct rooms to scale within small wooden boxes. In Clibanoff's previous shows, must of the works were contained in cigar boxes. In this show, she departs from that context with two larger works in plywood boxes measuring 10 x 13 x 6 inches. In addition, she will show one sculpture without the box to expose the exterior structure. As in the past her constructions are both real and imaginary. Illusion and perspective remain the focus of her work.
Clibanoff has had two solo shows at Gallery Joe. She has exhibited nationally in such places as the Whitney Museum of American Art at Phillip Morris, NYC, the Library of Congress, National Collection of Fine Arts, Washington, D.C. and the Chrysler Museum, Norfolk, VA. Her work is in numerous public and private collections including The Library of Congress, Washington, DC, Museum of Modern Art, NYC, and Yale University Art Gallery, New Haven, CT.
Cheryl Goldsleger, a native Philadelphian, will exhibit graphite drawings on mylar as well as sculpture. Her work alludes to aerial views of actual cities and resembles architectural blueprints. She transforms perspective drawings into detailed designs of symmetry and interlocking structures. Goldsleger's sculptures, solid blocks epoxy acyrlate the color of amber, contain illusionist drawings of corridors and stairways creating what appears to be an historic record of an architectural artifact.
Drawing Spaces will be Goldsleger's first show at Gallery Joe. Other recent exhibitions include Kidder Smith Gallery in Boston, National Academy of Sciences in Washington D.C., Morris Museum in Augusta, and Museum of Contemporary Art of Georgia in Atlanta. She is represented by Rosenberg and Kaufman Fine Art in New York. Goldsleger was recently awarded a commission for a public work at the Hartsfield-Jackson International Airport.
Goldsleger's work is included in numerous public and private collections, including Brooklyn Museum of Art, Arkansas Art Center, Little Rock, High Museum in Atlanta, Museum of Modern Art, NY and the Tel Aviv Museum in Israel. Goldsleger is associate professor at the School of Art and Design at Georgia State University in Atlanta.
Drawing Spaces opens Saturday, April 22 and continues through June 3, 2006. Both artists will be present at a reception on Saturday April 22, from 4 - 6 P.M. Regular gallery hours are Wednesday through Saturday, 12 - 5:30 and by appointment. For additional information contact Becky Kerlin, 215. 592.7752, FAX 215.238.6923, mail@galleryjoe.com or visit www.galleryjoe.com.
Drawing Spaces
22 Apr - 03 Jun 2006