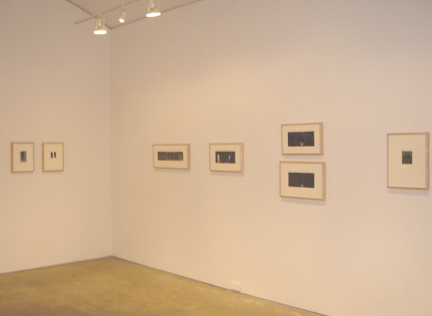 February 11 - March 25, 2006
Suites and Pages
FOR IMMEDIATE RELEASE
January 16, 2006
SUITES AND PAGES – CHARLES RITCHIE AT GALLERY JOE
Philadelphia, PA – Gallery Joe is pleased to present Suites and Pages, the first solo show in Philadelphia by Charles Rtichie. The exhibition opens in the Vault Gallery on Saturday, February 11 and continues through March 25, 2006. For this exhibition Ritchie will show 19 drawings from two related bodies of work, Suites and Pages.
Since 1985 the artist has explored a select group of subjects seen in and around his Silver Spring, Maryland home. All of the works were created in the same room; most looking into the same window and investigating the same subjects serially from very few vantage points. Ritchie refers to this series as Suites.
Two suites of self-portrait works are represented in the show; all are night images featuring the artist's visage captured in window reflection to some degree. The earlier group of Self-Portraits measures four inches high and is composed about a grid of windowpanes. Works from the more recent suite, Self Portrait with Night are a foot broad with window components eliminated allowing a fuller concentration on reflection and the interpenetration of interior and exterior spaces.
The newest series of works is entitled Pages and features images combined with inscribed texts. These works are on sheets of paper the size of the artist's journal pages; volumes he has kept continuously since 1977. The images explore Ritchie's creative workspace centering on the table at the window where he paints.
The inscriptions begin as pencil notations, paralleling the work as it develops. These graphite inscriptions are generally obliterated in the image making process as the writing often follows jags of Ritchie's imagination through recording dream fragments and other experiences. The final inked transcription is usually a refinement of dreams originally recorded in the journals.
All of the drawings in the exhibition are constructed over extended periods; months, even years and are limited in their use of color. However, black is virtually always mixed from other colors in order to achieve tonal flux. The primary medium for all works on view is watercolor, however use of graphite and gouache has been increased in more recent works as an experiment in reflectivity, transparency, and opacity.
Ritchie received his graduate degree in painting from Carnegie Mellon University in Pittsburgh. His work is represented in numerous public and private collections, including the Fogg Art Museum, Harvard University Art Museums, Cambridge, MA, The Baltimore Museum of Art, Yale University Art Gallery, New Haven, CT, Georgia Museum of Art, University of Georgia, Athens, and the Philadelphia Museum of Art.
It is with gratitude that Ritchie recognizes the Franz and Virginia Bader Fund, the Maryland State Arts Council, and the Arts and Humanities Council of Montgomery County, Maryland whose support helped make this exhibition possible.
Suites and Pages opens on Saturday, February 11 and runs through Saturday, March 25, 2006. The artist will be present at a reception on Saturday, February 11 from 4 - 6 P.M. Regular gallery hours are Wednesday through Saturday 12 - 5:30, other days by appointment. For additional information contact Becky Kerlin, 215.592.7752, FAX 215.238.6923, mail@galleryjoe.com or www.galleryjoe.com
Suites and Pages
11 Feb - 25 Mar 2006